xmartO DY3034 2K Super HD WiFi PTZ Camera - Add-on camera or Works Standalone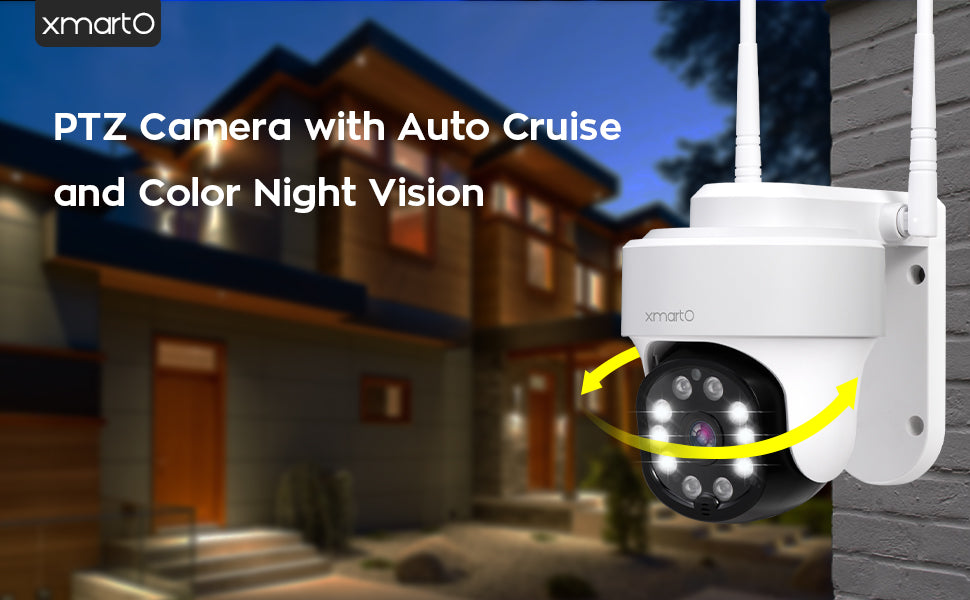 Camera with Auto Panoramic Cruise, Auto Tracking and Auto Flood Lights(plug-in)
Know before you buy
WiFi: 2.4G only
Needs plug in for Power: 100-240V AC to DC 12V, plug to a nearby outlet. Power plug comes with 10ft cable, search "12V power extension cable" on Amazon for longer cables.
The xmartO DY3034 WiFi security camera is an affordable PTZ camera for home and business surveillance.
With an enhanced microphone and a speaker inside, it lets you hear and talk clearly.
With 355° pan and 90° tilt, plus the camera's own 70° view angle, the camera easily covers the whole area.
Auto Tracking. The camera automatically tracks movements and record activities. (Reminder: need to upgrade camera to ver. 3.4.27 or later; contact xmartO support if help needed)
If you leaves the siren on from App, it automatically lets out motion-triggered siren alarm, or a voice message recorded by you.
With 6 strong LED floodlights and 4 IR LEDs in, the camera is versatile.
During daytime all the lights stay off.
AUTO mode: when no one is there, IR LEDs turn on and camera see B/W night vision; when someone is there, floodlights turn on and camera sees color night vision.
They light up the place for you like any floodlight, and they deter intruders away.
If lights are not enough, you can turn on the siren to deter any unpleasant visitor away.
IR mode: at night only IR LEDs work and camera see B/W night vision.
Flood Light mode: floodlights stay on every night.en alarm, or a voice message recorded by you.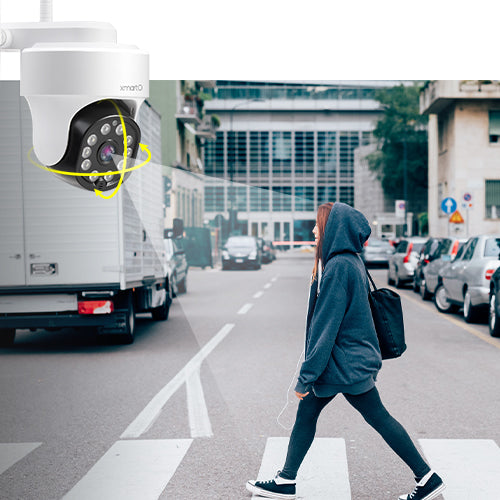 Auto Tracking
The camera automatically tracks movements and record activities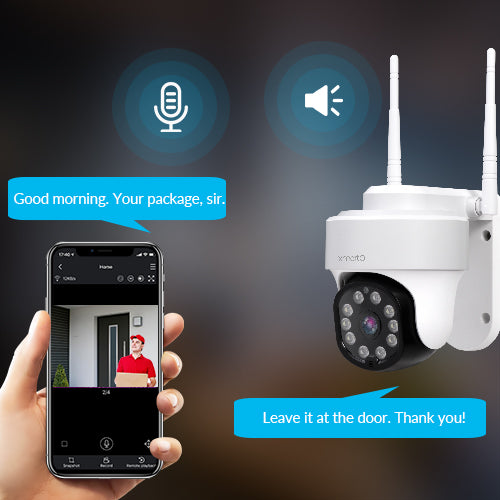 Enhanced 2-Way Audio
A high-gain microphone and an enhanced speaker is built-in, enabling you to hear and talk clearly.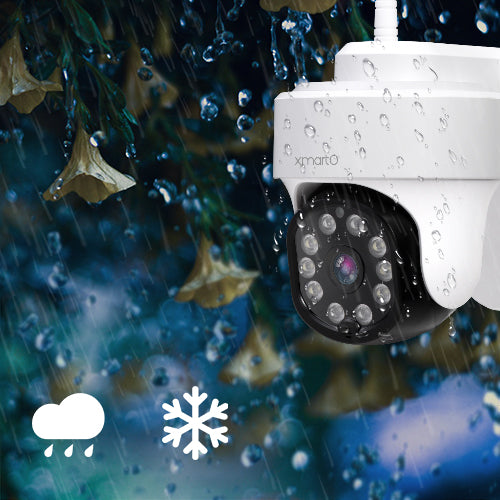 IP66 Weatherproof
IP66 rated, the camera can be mounted anywhere indoor and outdoor.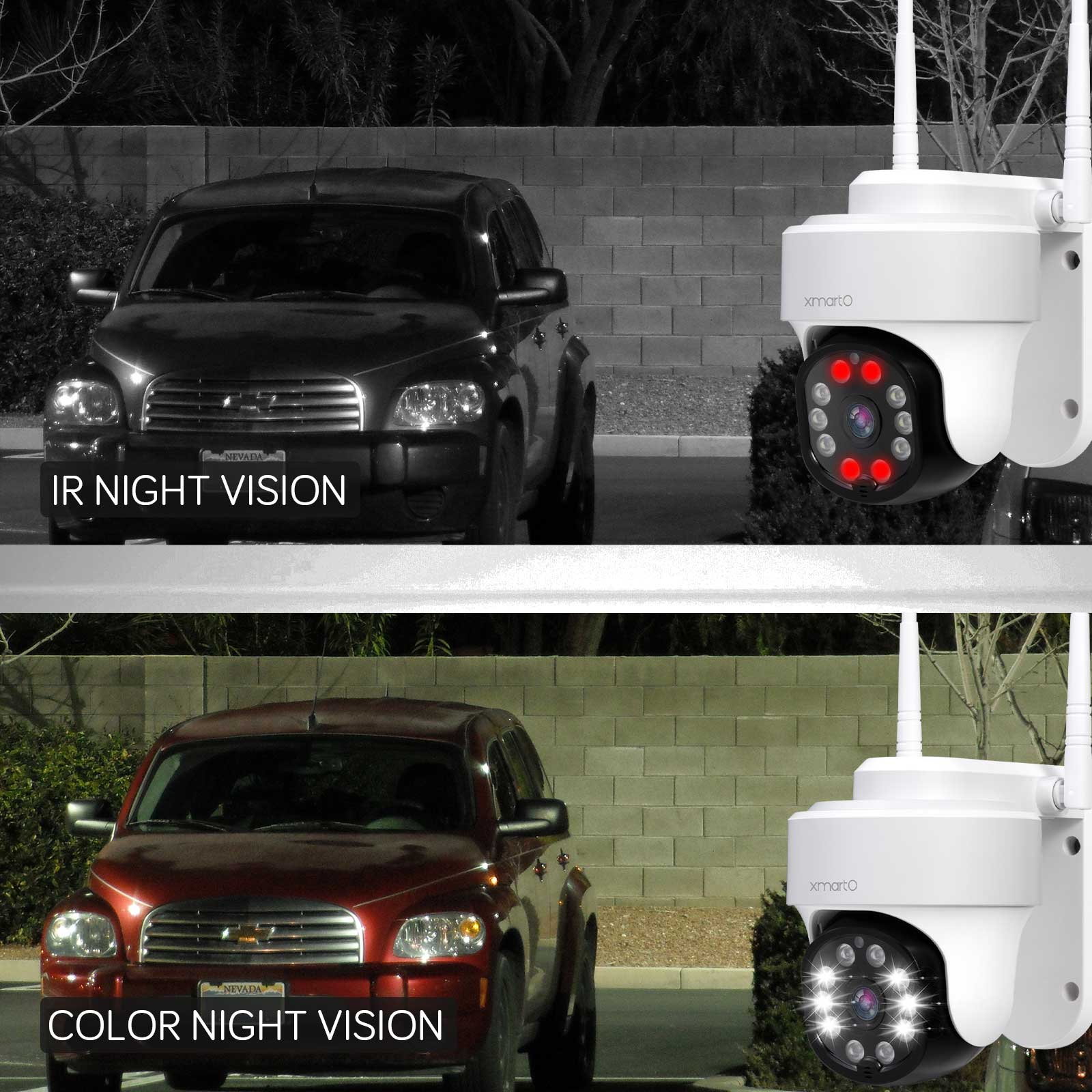 Auto Flood Lights and Color Night Vision
When motion detected at night, the camera automatically turn on the 4 LED flood lights. This lights up the area for you, and deters intruders away.
When the area is still, it automatically turns off the flood lights and turn on the 6 IR LEDs, delivers clear Black and white night view.
The Light Control menu is easy to use in the App and NVR. By switching among IR, Flood Light and AUTO modes, you can choose to use IR LEDs only, flood lights only or let the camera decide.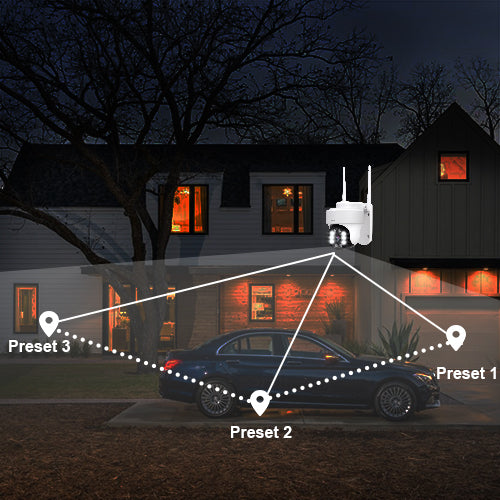 Auto Cruise and Auto Patrol
Tap the A button in the App, the camera will automatically pans to scan the area.
Turn on Motion detection tracking, the camera will track movement and record.
You can set up to 8 preset spots in the App. Obviously you reach any of the 8 spots with a single tap. Moreover, type and apply number 13, it will start to patrol the preset spots.
The auto features help you to keep visual of the whole area; and a moving camera does deter unwanted visitors.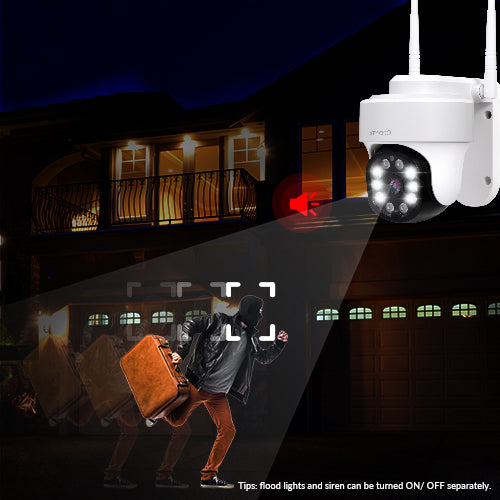 Motion-triggered Flood Lights and Siren
In AUTO light mode, flood lights turns on at night when motion detected; turns off when the area back to still.
If you find a bit more warning is needed, you can turn on the motion-triggered siren. In the App you can change the siren to a voice message.
If you find the flood lights or siren a bit disturbing, well, you can disable them from the App, no matter where you are.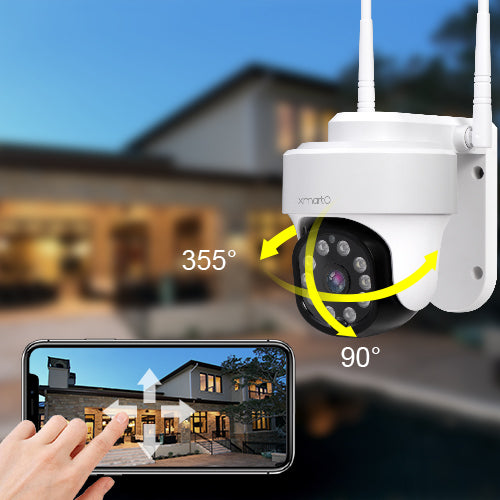 360° Full Coverage
With 355° pan and 90° flip, you can navigate the camera from the App/ NVR to cover every corner.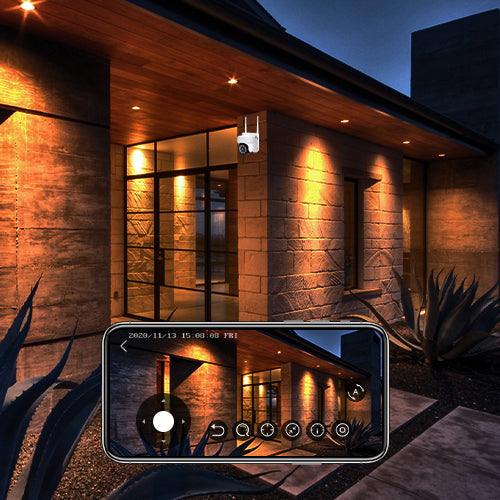 2K Super HD Image
A 2K super HD image sensor and lens delivers you crystal clear footages.
WiFi or Ethernet Connection
The camera connects to your router/ NVR with WiFi, or with Ethernet cable. When your camera's mounting spot has weak WiFi signal and control is not smooth, you can choose to hard wire the camera for smooth operation.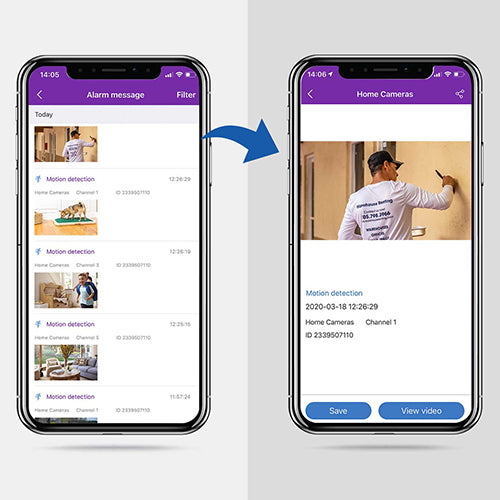 Motion-activated Message List
When motion detected, you receive a real-time App alerts with snapshots. A tap to view the video clip.
Even you are not aware of that, you can retrieve a day in the message list.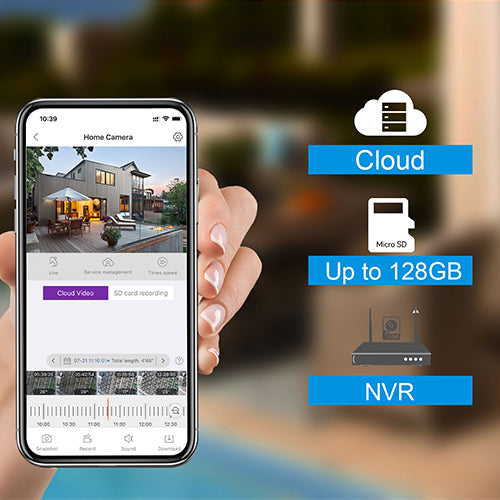 Saves to SD Card, NVR and Cloud
Insert an 8~128GB micro SD card to records your videos of past months.
Pair it to an XMARTO NVR and save videos of past years to the hard drive.
Subscribe the reasonably-priced WallPixel Cloud and save the videos to the encrypted AWS server.
You are free to use any, or all of them simultaneously.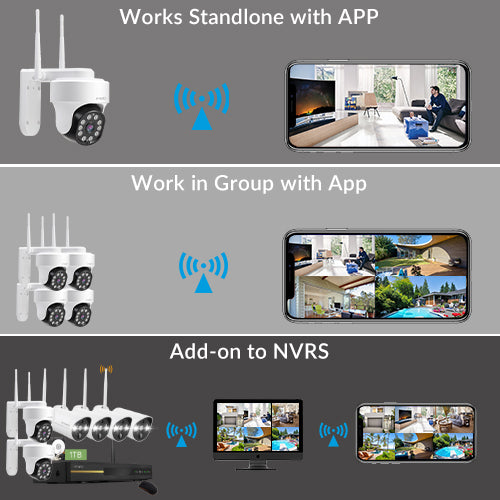 3 Ways Using the Camera
This camera is truly a multi-tasker.
With a single camera you can cover your front door area or backyard area.
With 2 or many of them, you can group them to a multi-view in the App. Yes, that means you can view your porch, your back yard and even your lakeside cabin simultaneously. It does not matter where they are, as long as they have power and Internet access.
Product Specifications
Minimum Working Illumination
Color: 0.1 Lux, B/W: 0.01 Lux
Video Compression
H.264/ H.265, dual stream
Video Output
Main: 2304*1296, Sub: 640*360
Day/ Night Switch
IR-CUT auto switch, IR/ Night Color/ Smart 3 modes
Image Flip
Horizontal/ vertical flip
Audio in/ out
Microphone
High-gain microphone inside
Speaker
Enhanced speaker inside
Light
Infra Red Night Vision (B/W)
up to 100ft (30m)
Color Night Vision
up to 60ft (18m)
Light Mode
IR/ Night Color/ Auto selectable
Storage
Micro SD Card
Maximum 128GB ExFAT or FAT32
Cloud Storage
Optional with free trial
Notification
App
Instant App push notifications
Email
Email notifications
Reliability
Lightning protection
TVS 4000V thunder-proof, Anti-surge
Working Temperature
-4~149℉ (-20~65℃)
Protection Grade
IP66 Weatherproof
Power
Power in
Universal AC 100-240V to DC 12V 1A power adapter included
Communication Protocol
Communication Protocol
N1