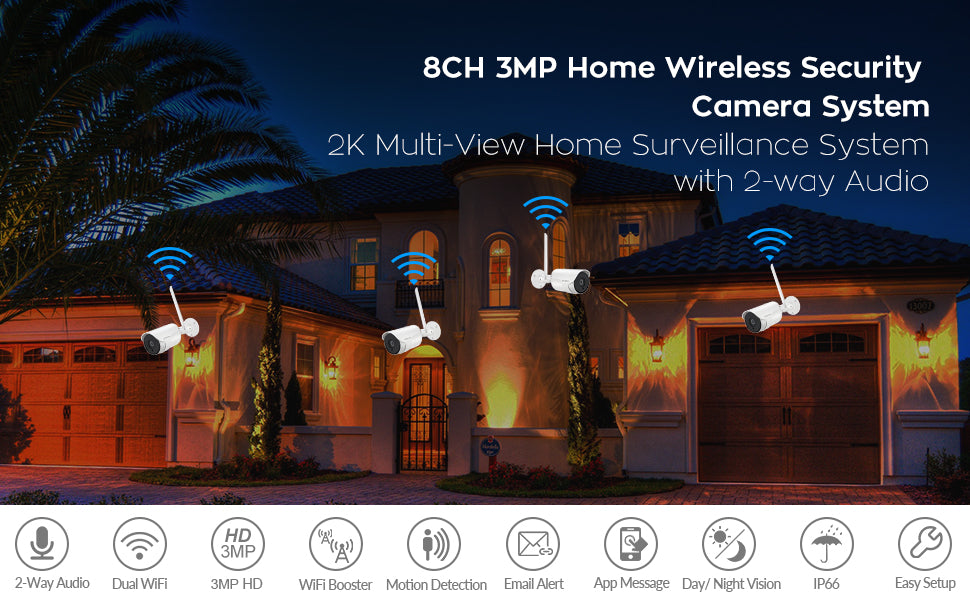 8CH Expandable NVR with 8 Cameras-2TB HDD
The xmartO wireless security camera system is designed to be a professional security device for your home and business.
Plug and Play- With Auto-Pair technology, the camearas will connect to the NVR automatically once they are plugged with the power adapter, saves the extra cost for installation.
Dual WiFi NVR-With latest DUAL-WiFi technology, the NVR connects to Internet through WiFi instead of hard wiring.
Clear 2-Way Audio- With Built-in microphone and speaker, it lets you hear and talk back with your family, pets and delivery man from your phone.
IP66 Weatherproof-With the IP66-rated weatherproof function, this security camera can work well under any weather conditions in each season such as snow, rain, wind and so on.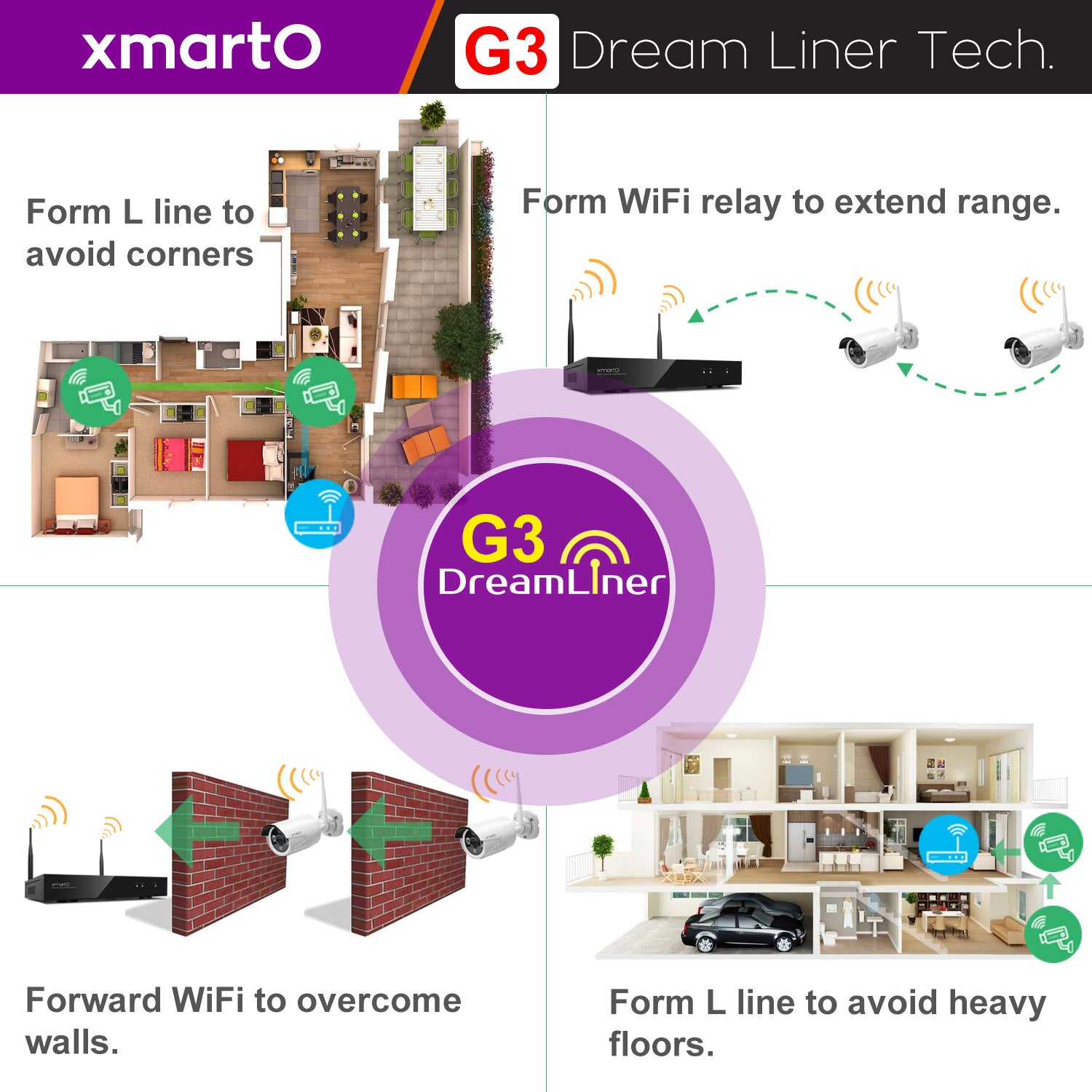 G3 AUTO Dream Liner WiFi Relay
The security camera system is an xmartO G3 system.
G3 Key Feature 1: AUTO-WiFi-Relay. Cameras with weak signal automatically repeat to close-by cameras and connect to the NVR. This boosts the camera mounting WiFi range automatically.
G3 Key Feature 2: works with AUTO Repeaters. The G3 xmartO WiFi camera system works with xmartO RPT20 auto WiFi repeaters, to further extend WiFi range.
Dual WiFi Inside
All cameras connect the built-in WiFi modules and don't use your home WiFi band-width.
Your NVR can connect your home WiFi wirelessly, it's convenient for you to put the NVR anywhere you want without the hassle of hard wire.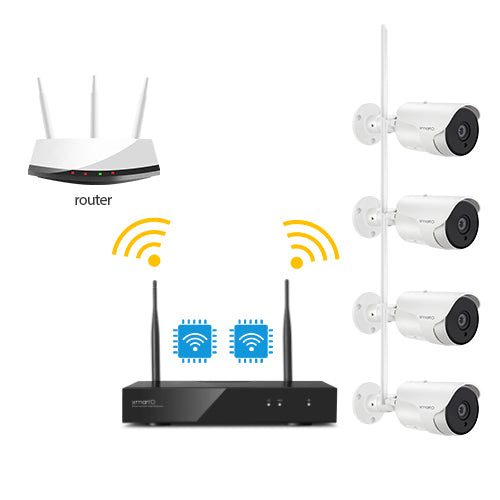 Like all traditional CCTV systems, this WiFi security camera system forms its own closed circuit television to let you view your cameras on screen. It works standalone without any support of your router or Internet service.
All cameras connect to the NVR with its own built-in router; without using any of your current home WiFi band-width at all.
By connecting the NVR to your WiFi, you can view your cameras remotely from anywhere anytime.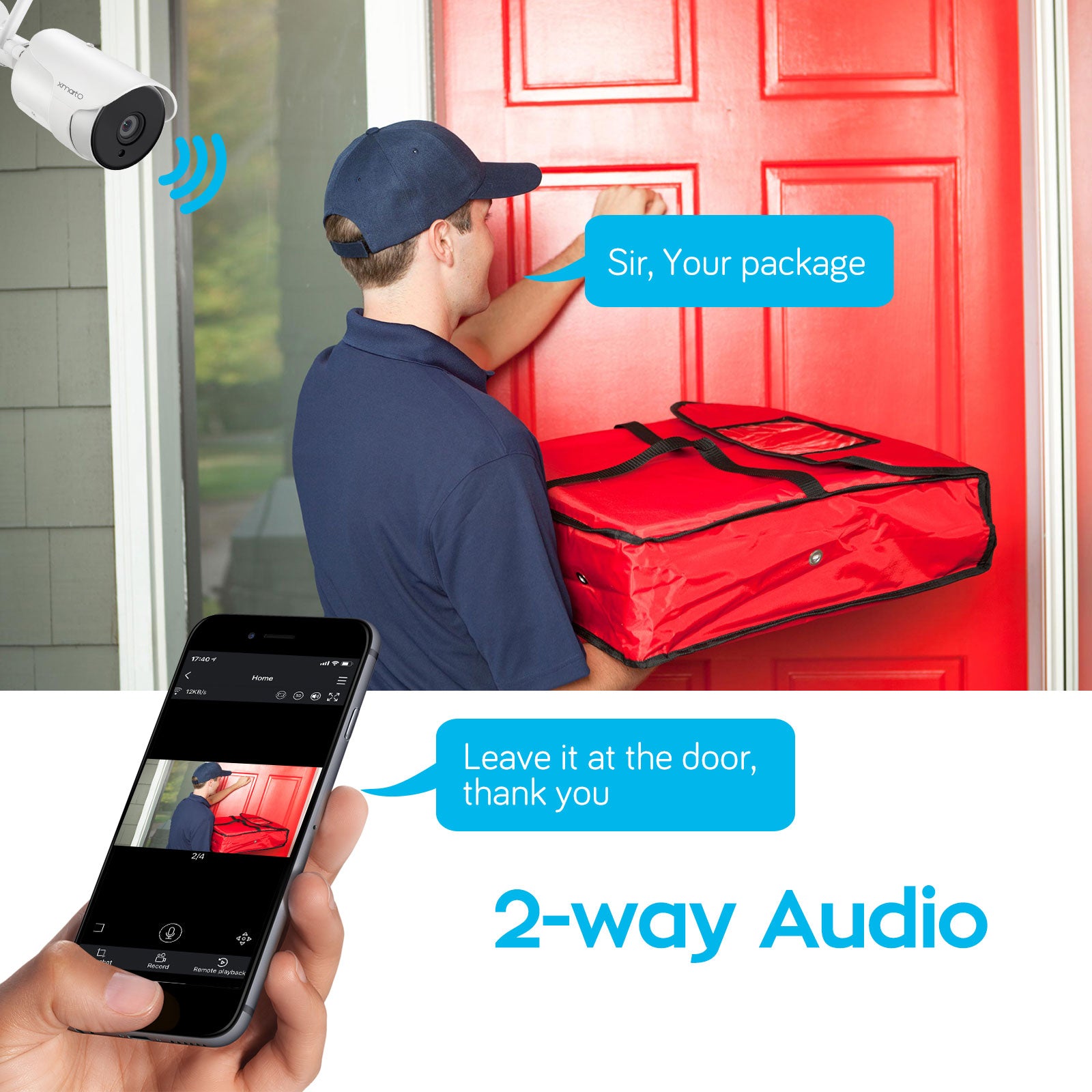 2-way Audio
With Built-in microphone and speaker, you can hear and talk back to your family,pet or the visitors on your mobile phone while you are not at home. At the same time,you can warn potential intruders on your phone and let them leave your place.
Works Indoor and Outdoor, Day and Night
With proper size, The security camera system can be used in multiple places, such as Home, restaurant, garage, office or warehouse under various indoor and outdoor occasions.
The IP66-rated weatherproof function can work well under any weather conditions in each season such as snow, rain, wind and so on.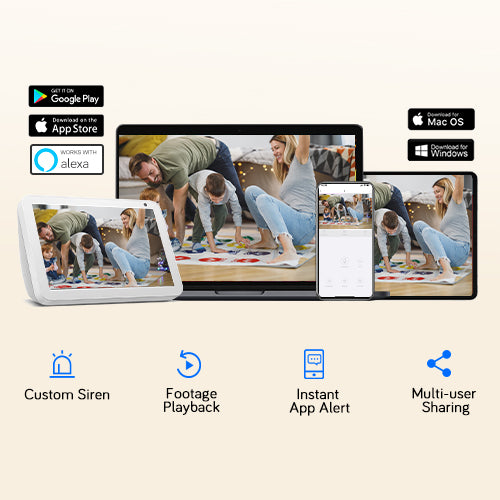 Easy Remote Access on Various Device
Download the free xmartO Wallpixel APP for IOS, Android, PC and Mac. You can enjoy the remote viewing. No matter where you are, you can access the cameras to watch live video and playback video at any time when your NVR connect to the WiFi.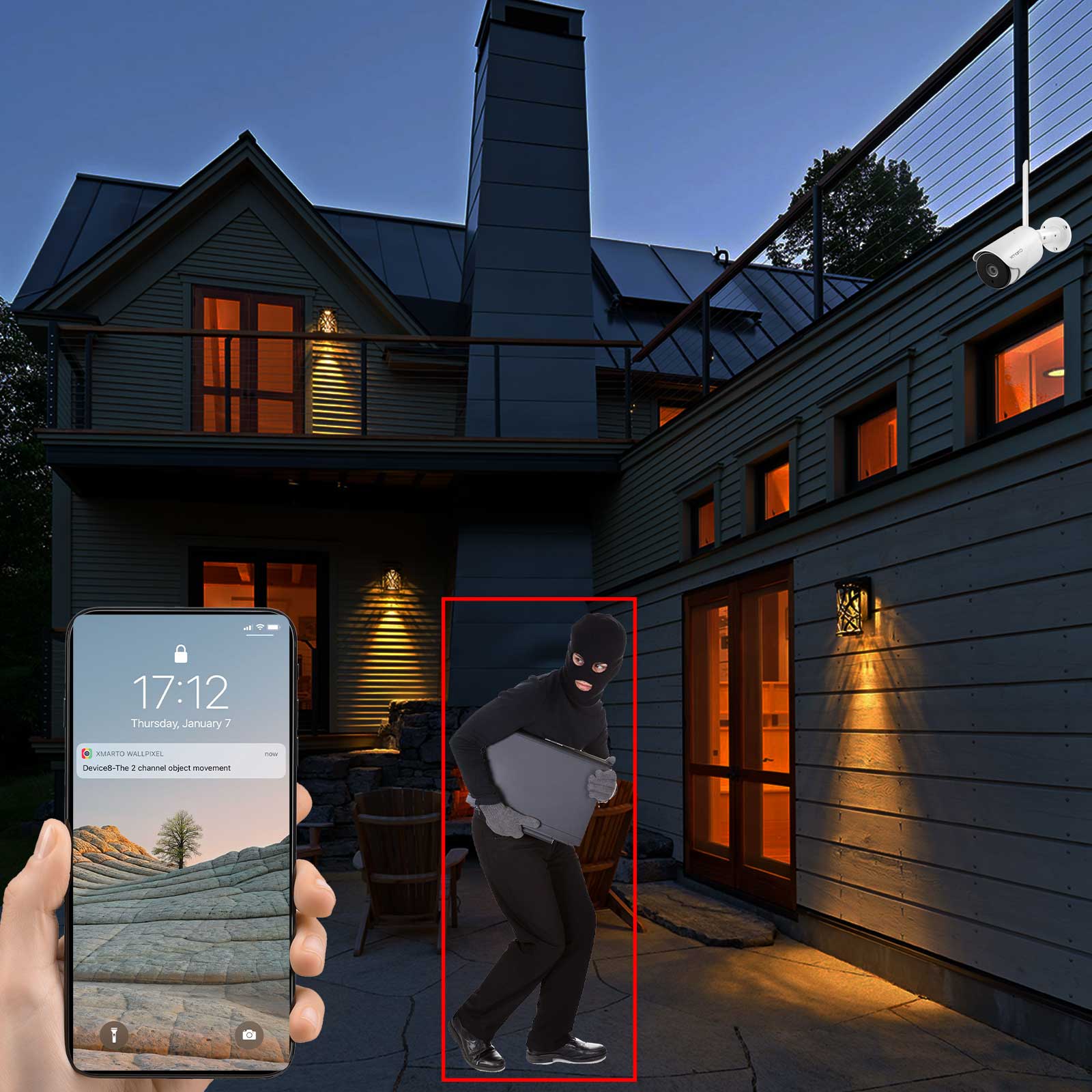 Human Detection Alarm
With latest human detection embedded, the camera sends mobile App alerts when motion detected, and tracks the people's movement automatically.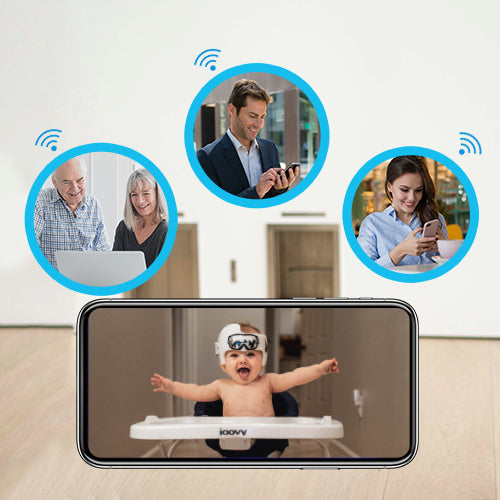 Share with Families
xmartO wireless security camera supports multiple users to view the camera simultaneously. The cameras can be easily shared with families from the App which make each family members not miss every warm and important moments.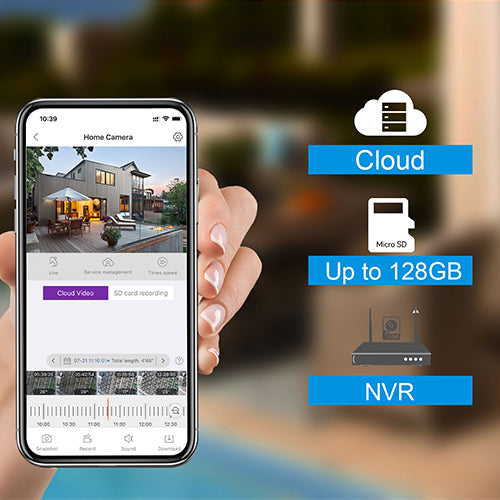 Secure and Dual Storage Way
The wireless security camera system supports up to 6TB HDD and 30-day free encrypted cloud storage.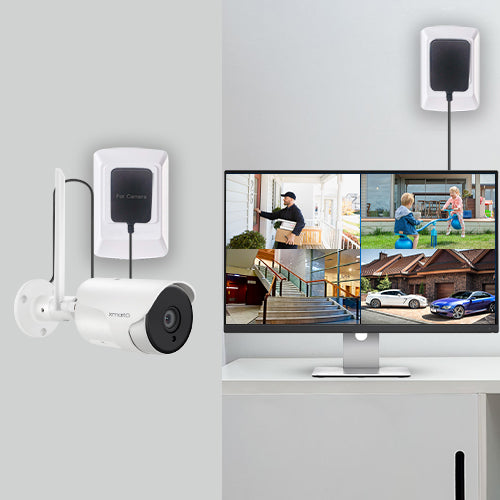 Easy Plug N Play
NVR and cameras auto-pair, you only need to mount the cameras within WiFi range to start monitoring.
Note: Wireless means the cameras connect to the NVR wirelessly . Both Cameras and NVR require power supply plugged for 24/7 recording.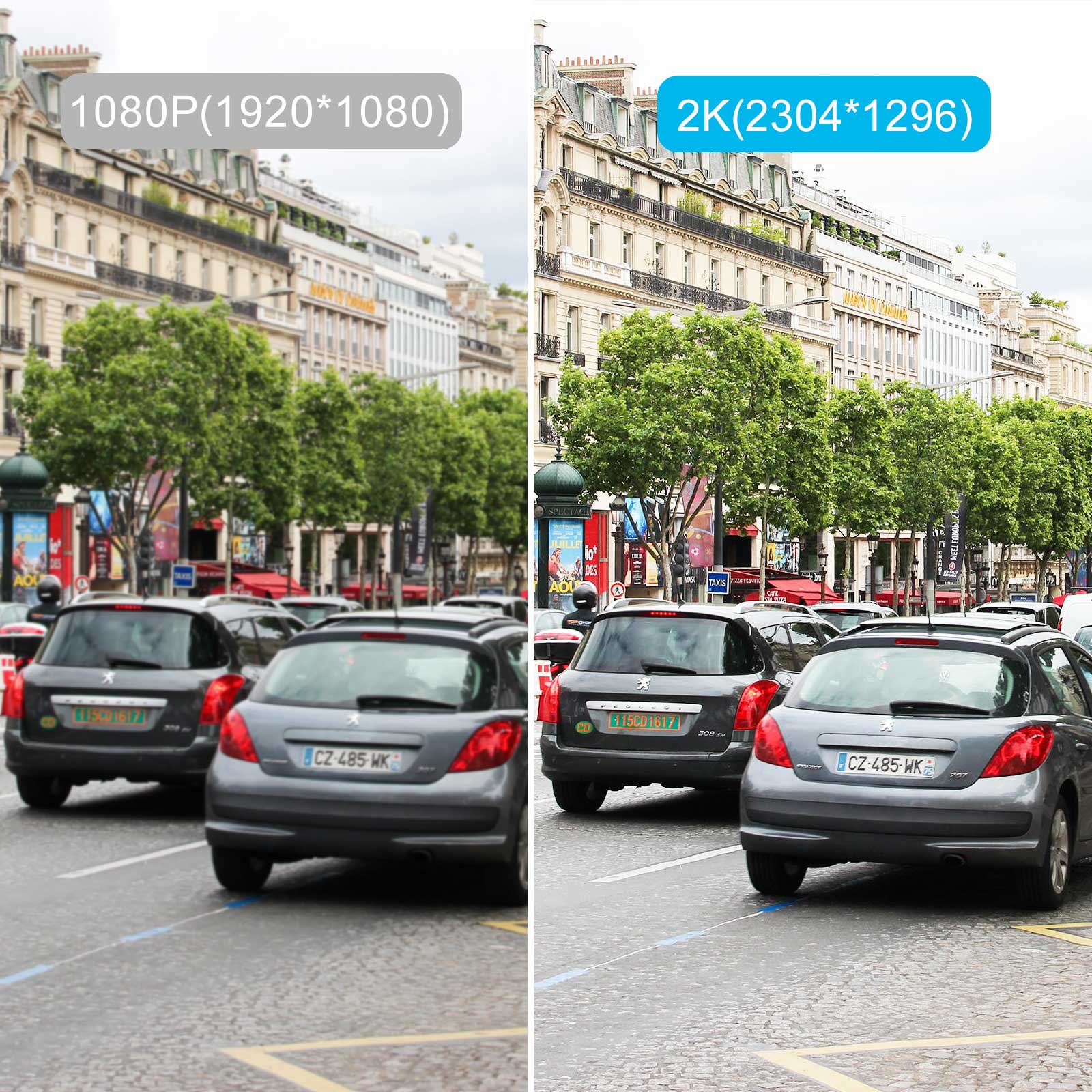 2K High Quality Resolution
Compared with xmarto's previous 960 and 1080p image quality, the upgraded 2K is clearer and smoother than before.
It shows more visible details and brighter colors, provide you with a better using experience.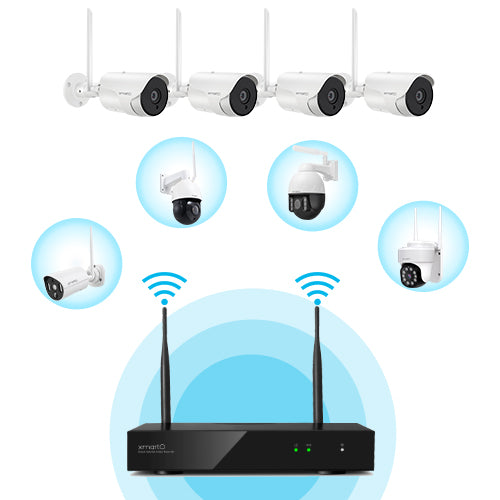 Expandable to 8 Cameras, Flexible Choice
The 8CH wireless security camera system allows you to add 8 cameras in total.
In order to meet different needs in different scenarios, you can add some xmartO PTZ cameras or PIR cameras to make your system a complete multi-function system.
Product Specifications
NVR
Audio/ Video Out
HDMI Output
1 channel, Resolution:1024x768,1280x1024,1440x900,1920x1080, with audio
VGA Output
1-channel, Resolution:1024x768,1280x1024,1440x900,1920x1080
Video Audio Decode
Record Resolution
5MP/3MP/1080P/720P
Playback
4-channel@3MP, 2-channel@5MP
Video Management
Record Mode
Time, Motion and Alarm Recording
Playback Mode
Regular playback, Event playback
Video backup Mode
USB storage backup, App backup
External Ports
Network
1x RJ45 10M/100M self-adaptive Ethernet port
1x internal wireless network card
Antenna
2x integrated 2.4G WiFi antennas
Audio
1x 3.5mm headset port
Communication Protocol
Communication Protocol
N1, ONVIF
Power
Power in
Universal AC 100-240V to DC 12V 2A power adapter included
Camera
Minimum Working Illumination
Color: 0.1 Lux, B/W: 0.01 Lux
Video Compression
H.264/ H.265, dual stream
Video Output
Main: 2304*1296, Sub: 640*360
Image Flip
Horizontal/ vertical flip
Audio in/ out
Microphone
High-gain microphone inside
Speaker
Enhanced speaker inside
Light
Infra Red Night Vision (B/W)
up to 100ft (30m)
Storage
Micro SD Card
Maximum 128GB ExFAT or FAT32
Cloud Storage
Optional with free trial
Notification
App
Instant App push notifications
Email
Email notifications
Reliability
Lightning protection
TVS 4000V thunder-proof, Anti-surge
Working Temperature
-4~149℉ (-20~65℃)
Protection Grade
IP66 Weatherproof
Power
Power in
Universal AC 100-240V to DC 12V 1A power adapter included
Communication Protocol
Communication Protocol
N1