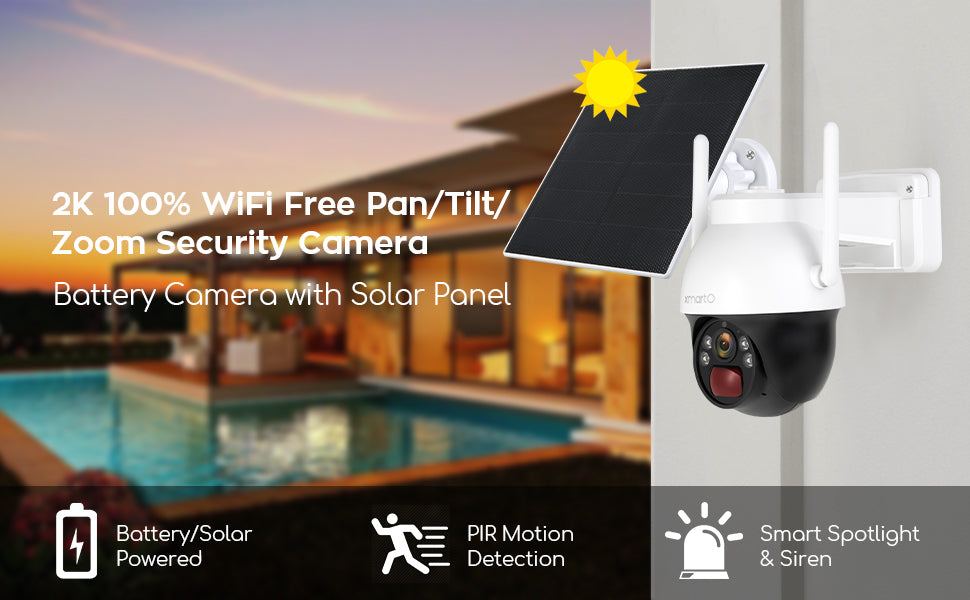 100% Wire-free Solar-powered Security Camera Features All-Weather-Charge
The XMARTO SDP3034 is a wire-free pan/ tilt/ zoom home surveillance camera you can mount anywhere indoor/ outdoor.
The camera features XMARTO's All-Weather-Charge Technology
The XMARTO SDP3034 is a wire-free pan/ tilt/ zoom home surveillance camera you can mount anywhere indoor/ outdoor.
In sunny days, the solar panel recharges fast and store power to the camera's 10000mAh batteries. (up to 120-day battery life)
In cloudy, rainy and snowy days, the solar panel charges the camera in Trickle-Charge mode for ±12 hours per day, 7 days a week.
The all-weather recharging helps the camera to stay working without running out of battery.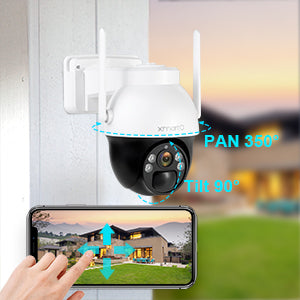 Remote PTZ control on your phone
With 350° horizontal pan and 90° vertical tilt, plus the camera's own 90° view angle, the camera covers the whole area. You can navigate the camera to view any direction, from the phone Apps, or from an XMARTO NVR.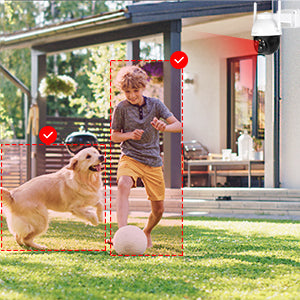 Thermal True Detection
With PIR thermal sensors in, the camera detects people, animals, vehicles and send instant alerts to your smartphone. The thermal true detection reduces most false alerts caused by trees, raindrops and bugs.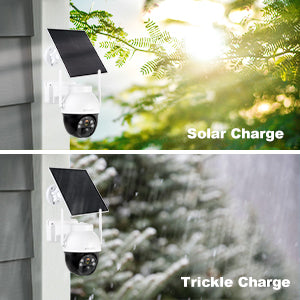 Continuous Solar Power
The camera only requires a fully 1st recharge upon arrival, then the solar panel will take over.
In sunny days the camera recharges fast to store power.
In cloudy, rainy and snowy days, the solar panel keeps transferring light to power and charge the camera for ±12 hours per day, 7 days per week.
Tips 1: Solar/ battery powered cameras work when motion-triggered. They don't record 24/7.
Tips 2: You can plug this camera into power with a 5V DC phone charger so it works 24/7, or choose plug-in WiFi cameras.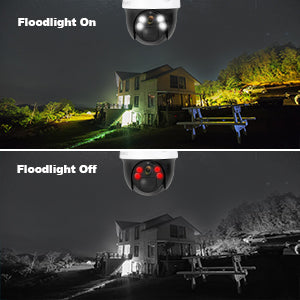 Color Night Vision
At night, when activities detected, the camera automatically switch from Infra Red LEDs to flood lights, see and record in color night vision.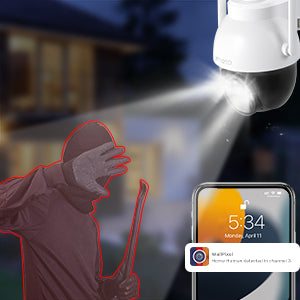 Ward off Unwanted Visitors
Trigger warning light and siren automatically or manually from the App.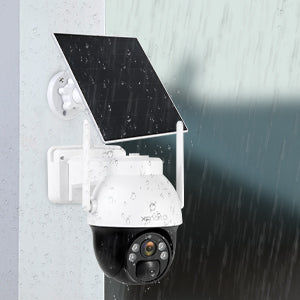 Weather-resistance
The camera and solar panel is IP66 rated for both outdoor and indoor use.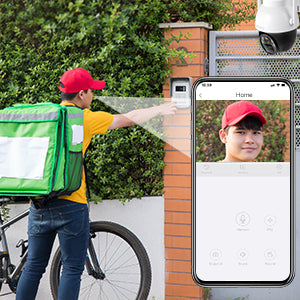 8x Digital Zoom
From the phone App, you can simply use 2 fingers to enlarge the video to 8x zoom in to see a certain area.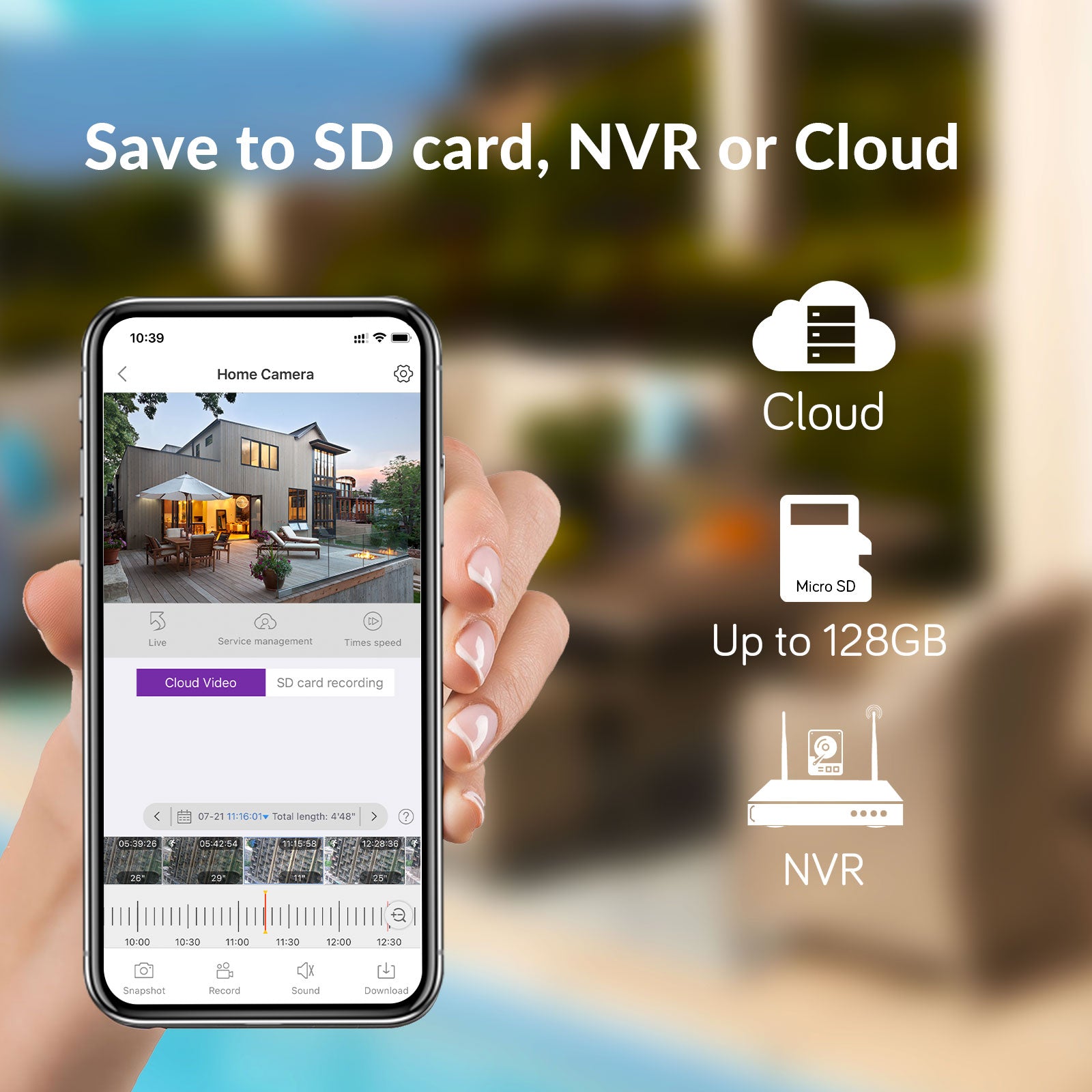 Saves to SD Card, NVR and Cloud
Insert an 8~128GB micro SD card to records your videos of past months.
Pair it to an XMARTO NVR and save videos of past years to the hard drive.
Subscribe the reasonably-priced WallPixel Cloud and save the videos to the encrypted AWS server.
You are free to use any, or all of them simultaneously.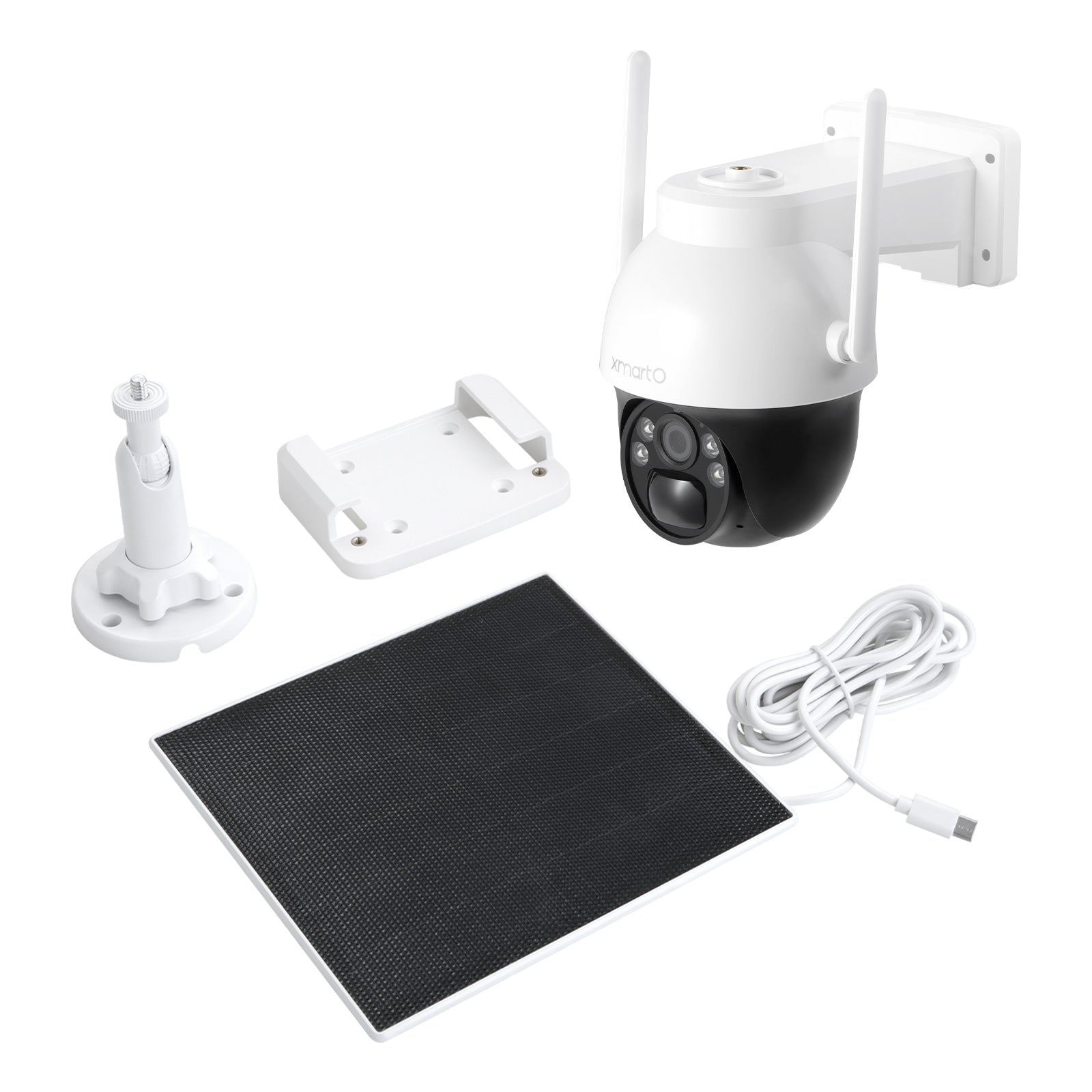 Easy to Install
Install the camera holder on wall, then fix the camera to the holder with 2 screws.
Install the bracket on wall, then fix the solar panel on bracket.
With 10ft USB type-C cable, you can easily mount the solar panel anywhere within 10ft to the camera.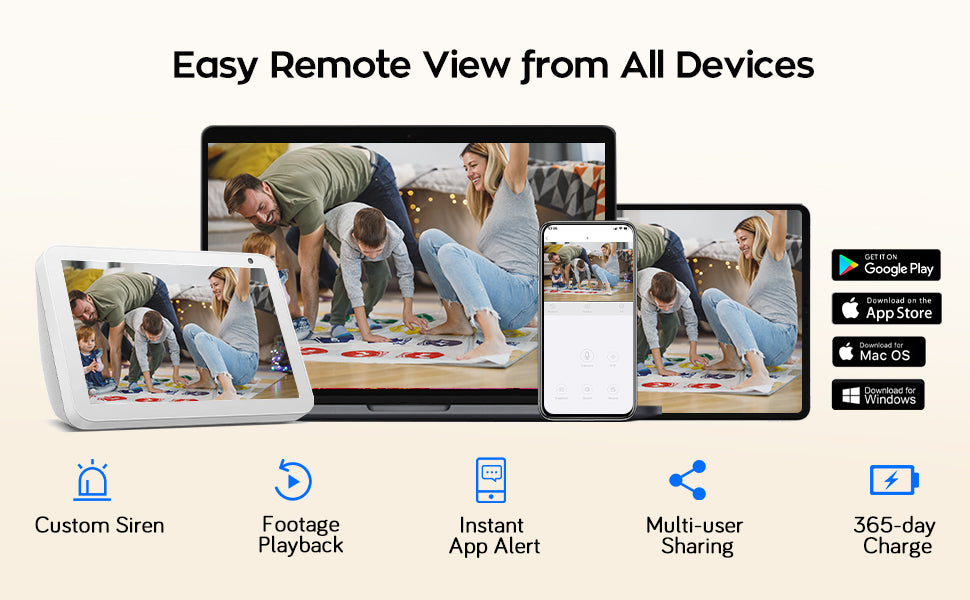 FAQ
Does this camera records 24/7?
Yes but not by default. All solar/ battery-powered security cameras record based on motion detection. If you need 24/7 cameras, please go for XMARTO's WiFi security camera system with plug-in power. You can also plug this camera to power with a 5V DC phone charger, switch to "Continuous Recording Mode" to make it work 24/7.
Does this camera really last forever after the 1st charge?
In most situations, yes. In very severe weather conditions, nothing lasts forever. If your area has 7 sunny days out of every 90 days, the camera shall have enough power to last. The rest 83 days will have trickle-charge, very slow charge yet lasts everyday. The more frequently it's triggered, the faster it consumes the power.
Is a DC power charger included?
No. Please use any 5V 1A or 2A phone charger to fully charge the camera overnight when you receive it.
Is there any extra cost?
You may need to get an SD card if you want to save the videos. You also have the options to save videos to an XMARTO NVR or the WallPixel Cloud. You can use all the 3 storages simultaneously, or any of them. A 16GB micro SD card will save videos of past months. Except for that, no unknown cost at all.
Will the solar panel charge the camera if I mount the camera indoor?
Yes it will, with trickle-charge. The better solution is mounting the camera indoor and mount the solar panel out. That's why the solar panel has 10ft cord.
Product Specifications
Minimum Working Illumination
Color: 0.1 Lux, B/W: 0.01 Lux
Video Compression
H.264/ H.265, dual stream
Video Output
Main: 2304*1296, Sub: 640*360
Digital Noise Reduction
3D Digital Noise Reduction
Day/ Night Switch
IR-CUT auto switch, IR/ Night Color/ Smart 3 modes
Image Flip
Horizontal/ vertical flip
Audio in/ out
Microphone
High-gain microphone inside
Speaker
Enhanced speaker inside
Light
Infra Red Night Vision (B/W)
up to 100ft (30m)
Color Night Vision
up to 60ft (18m)
Light Mode
IR/ Night Color/ Auto selectable
Storage
Micro SD Card
Maximum 128GB ExFAT or FAT32
Cloud Storage
Optional with free trial
Notification
App
Instant App push notifications
Email
Email notifications
Reliability
Lightning protection
Standard IEC61000-4-5
Working Temperature
-20℃ to +55℃
Protection Grade
IP66 Weatherproof