Network Video Recorder (NVR) with Dual Wi-Fi Inside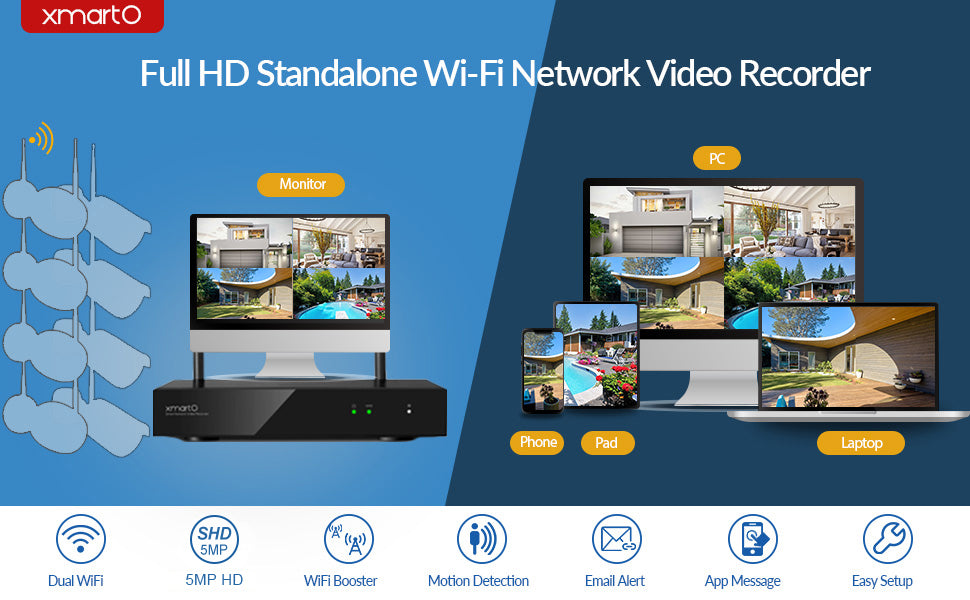 Overview
This xmartO WNQ58 is a standalone network video recorder (NVR) with customized Linux OS embedded. You can add up to 8 xmartO WiFi cameras to build your WiFi camera system for houses, stores, offices and warehouses. The cameras connect to the NVR's own WiFi so the system works standalone regardless whether you have Internet service or not. Connecting the NVR to your WiFi will enable you to access the cameras remotely on iPhone, iPad, Android phones, tablets, PC and Mac, no matter where you are and when.
With 8 channels and 5MP super HD, it can support 8 xmartO WiFi cameras from 720p cameras to 5MP cameras.
Supports up to 8 xmartO WiFi cameras, you can easily monitor 8 areas simultaneously.
xmartO provides a wide range of add-on cameras including standard bullet cameras, PTZ bullet cameras, PTZ dome cameras, cameras with PIR motion detection, cameras with built-in audio etc.
This NVR is compatible forward with older version xmartO WiFi cameras even they are 3-5 years old.
This NVR has DUAL-WiFi so it connects to Internet through WiFi instead of hard wiring. This brings fexibility of NVR location, which helps to reach all cameras well and avoid WiFi interference to your home router. That also means you can easily hide the NVR in an attic or somewhere.
Powered with G3 AUTO xmartO Dream Liner WiFi Relay¹ technology, it automatically set a closer camera as WiFi repeater for a further camera to boost the WiFi range.
This NVR does not come with a hard disk. Please inquire xmartO customer support if you need a hard disk; or you can use any 3.5" SATA HDD with it.
Note: NVRs with firmware versions below 3.0 do not support IPC above 2MP. It is recommended to choose WB1324N and WP1324 as the add-on cameras.
1. The Deam Liner WiFi Relay Technology is in all xmartO NVRs; the G3 AUTO version works only when NVR version is 3.0.7+, and cameras' version is 3.2+.
G3 Auto WiFi Relay Technology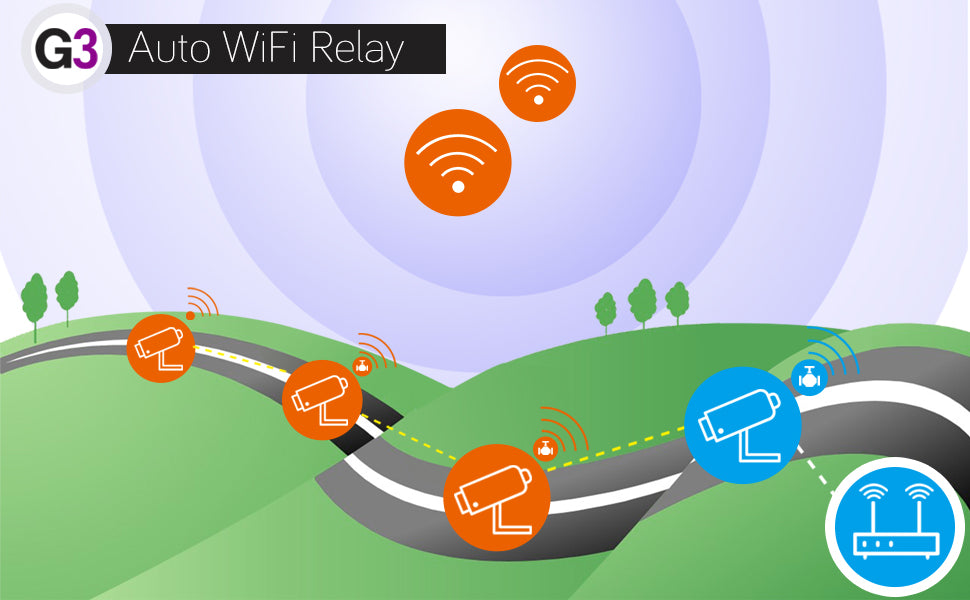 A Step Forward of xmartO Dream Liner Technolgy
In 2015 xmartO released its first 1000ft long range WiFi camera system, a tremendous break-through on 2.4Ghz Wi-Fi devices' coverage
Yet cameras' Wi-Fi performance is still noticably affected by obstacles, mainly walls especially metal walls.
To improve Wi-Fi coverage range of xmartO WiFi cameras, in Q3 of 2017 xmartO announced its Dream Liner WiFi Relay Technology, which allows users to set closer cameras as WiFi repeaters for further cameras. That helps a lot of customers with the camera installations
It is very helpful but it needs some tech-knowledge to plan camera's relay routes and do the settings.
In Q2 of 2020, xmartO reveals the G3¹ (generation 3) WiFi camera systems with Auto WiFi Relay Technology. Cameras search nearby cameras automatically and relay back to its NVR (network video recoder, the base unit). No more manual settings required.
G3¹: xmartO WiFi camera system with NVR version 3.0.7+, camera version 3.2+.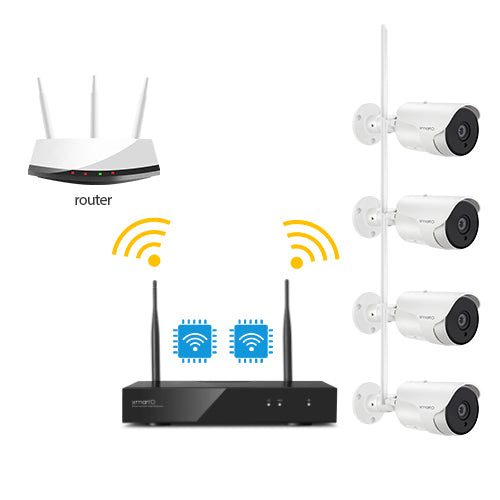 Dual WiFi Inside
No need to hard wire the NVR to router to get Internet connection, it connects to WiFi.
The NVR can be placed at a flexible spot to receive all cameras better.
Placing the NVR far from your router helps to avoid WiFi interference.
Tips: connect the NVR to WiFi in System setting - Network setting - Wireless Internet.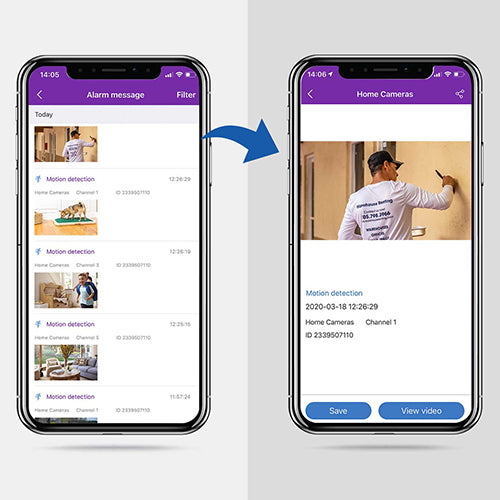 Motion Detection Message
When motion detected, the camera sends you a message with snapshot. Tap to view a video clip to get more details.
Each camera lets you turn ON/ OFF the motion detection message.
Each camera's detection area is customizable. This helps to avoid repeated messages caused by trees.
In App, you have a daily message list to check daily events.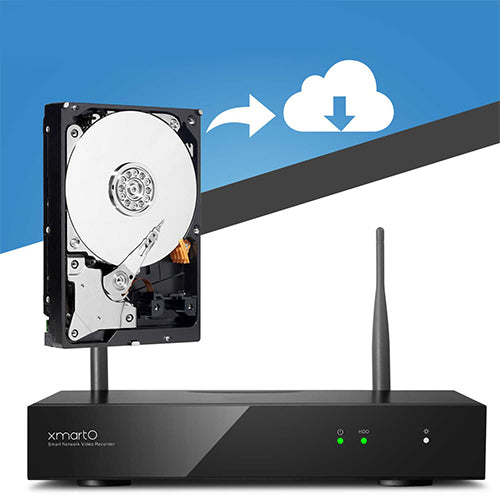 Save to hard disk or Cloud
The wireless security camera system supports up to 6TB HDD and 30-day free encrypted cloud storage.
While replaying videos, the system highlights motion-triggered events to save your time.
While viewing or replaying videos, you can take a snaphot or a video clip with one tap in the Apps, of which you can share easily from the phone, or backup to PC.
Supports Versatile Add-on Cameras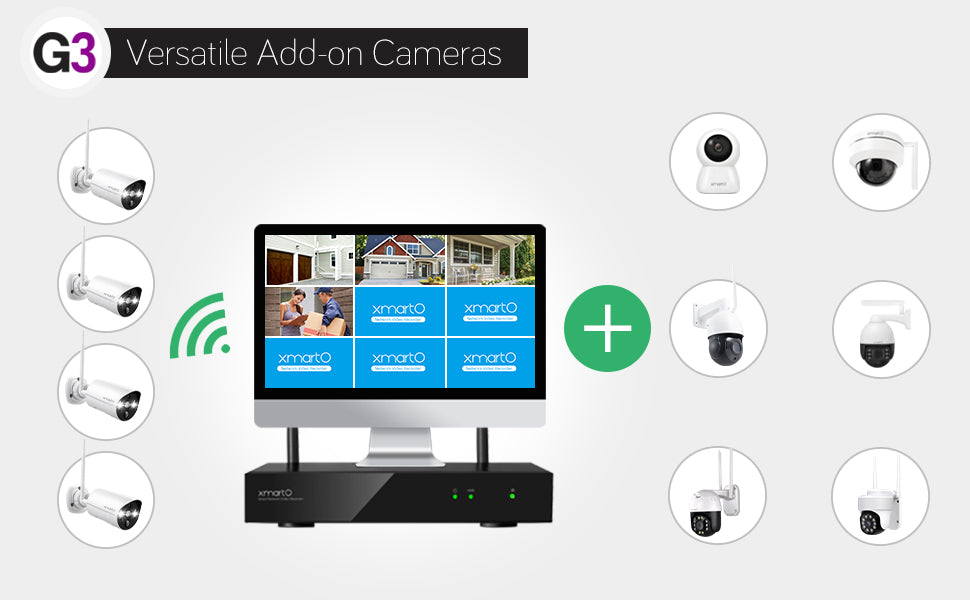 A Lot of Possibilities for DIY
This WNQ58 NVR is compatible forward even with the 2015 WB1324 cameras. If you want more cameras, we have a lot options. Here is a compatible list:
Bullet cameras: WB2024-W, WG3034 WB1324N, WB1324, WB1326, WB2024, WB2026, WB2054, WB2056
Dome camera: WD1324
PIR sensing camera with 2-way audio: WP2K34, WW2024
Indoor PTZ camera: DPI2024
PTZ bullet cameras: , WT2054, WT20512, WZ3034, WP1324, WP1326, WP2024, WP2026, WP2054, WP2056
PTZ dome cameras: DPM2024, DZ2034, DZ20313, DT3034, DY3034, DX30530,WT2054
Battery-powered camera: BC3-SP
More...
If you have any question about compatibility, please contact support team via support email on product manual.
Product Specifications
Audio/ Video Out
HDMI Output
1 channel, Resolution:1024x768,1280x1024,1440x900,1920x1080, with audio
VGA Output
1-channel, Resolution:1024x768,1280x1024,1440x900,1920x1080
Video Audio Decode
Record Resolution
5MP/3MP/1080P/720P
Playback
4-channel@3MP, 2-channel@5MP
Video Management
Record Mode
Time, Motion and Alarm Recording
Playback Mode
Regular playback, Event playback
Video backup Mode
USB storage backup, App backup
External Ports
Network
1x RJ45 10M/100M self-adaptive Ethernet port
1x internal wireless network card
Antenna
2x integrated 2.4G WiFi antennas
Audio
1x 3.5mm headset port
Communication Protocol
Communication Protocol
N1, ONVIF
Power
Power in
Universal AC 100-240V to DC 12V 2A power adapter included