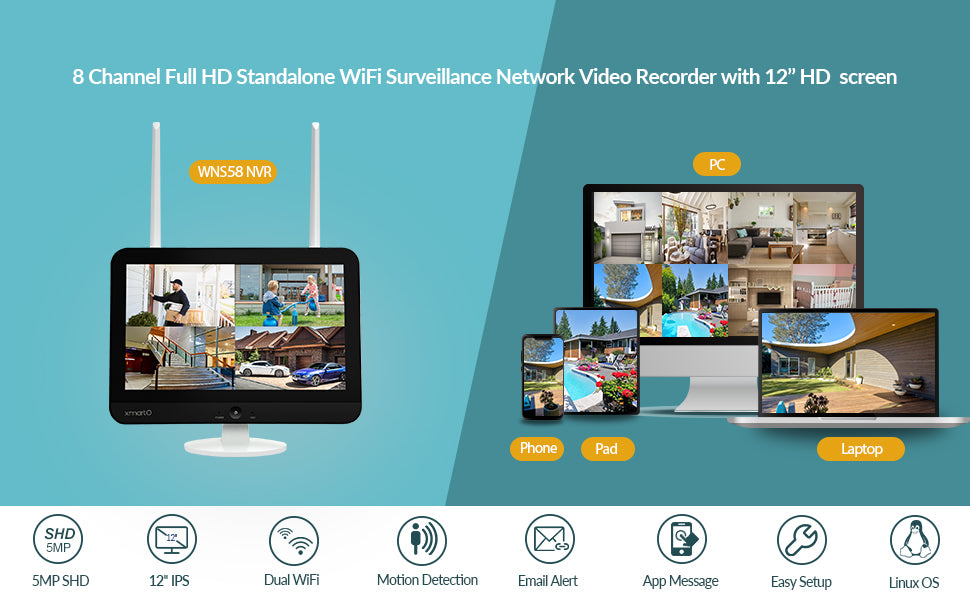 xmartO 8CH NVR with 12'' HD Screen
Sharing same mainboard with WNQ28-DW, it has all functionalities of WNQ28-DW.
It has a 12-inch HD screen integrated, If you found 12" screen is not big enough, you can connect it to a monitor or a TV with its HDMI port.
With 8 channels and 5MP super HD, WNS58 has vast compatibilities. You can add up to 8 xmartO WiFi cameras, from 720p cameras to 5MP cameras.
The NVR has DUAL-WiFi so it connects to Internet through WiFi instead of hard wiring. This brings flexibility of NVR location, which helps to reach all cameras well and avoid WiFi interference to your home router.
Powered with xmartO Dream Liner WiFi Relay technology, you can set a closer camera as WiFi repeater for a further camera to boost the WiFi range.
Screen sleep. You can tap the button on front to close the screen while leaving the NVR on and working.
You can view the videos on your phone , tablets, PC at anytime no matter where you are if you keep the NVR online.

Now xmartO reveals the G3¹ (generation 3) WiFi camera systems with Auto WiFi Relay Technology. Cameras search nearby cameras automatically and relay back to its NVR (network video recoder, the base unit). No more manual settings required.
G3 Key Feature 1: AUTO-WiFi-Relay. Cameras with weak signal automatically repeat to close-by cameras and connect to the NVR. This boosts the camera mounting WiFi range automatically.
G3 Key Feature 2: 5dbi Big Antennas. For better WiFi coverage, all cameras come with 5dBi bigger antennas rather than old 3dBi antennnas.
G3 Key Feature 3: works with AUTO Repeaters. The G3 xmartO WiFi camera system works with xmartO RPT20 auto WiFi repeaters, to further extend WiFi range.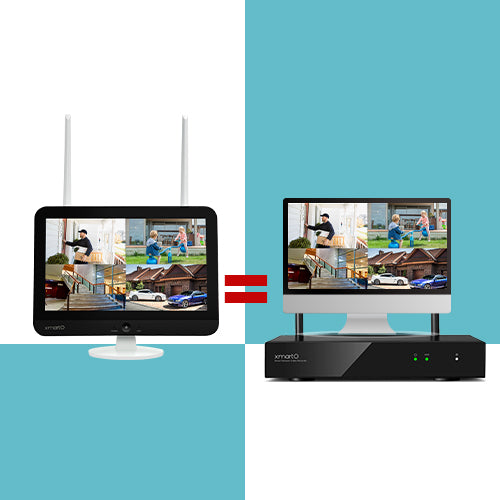 Full-Capability NVR with an HD Screen
The WNS58 has same mainboard as WNQ28. It works exactly the same as the original NVRs in xmartO WiFi camera systems.
You don't have to find a screen specially for the NVR. You can connect it screen to a bigger monitor or TV with the HDMI cable if this NVR screeen is not big enough for you.
The WNS58 has full size SATA hard drive dock, you can install 3.5" or 2.5" SATA hard drive into it. (up to 6TB)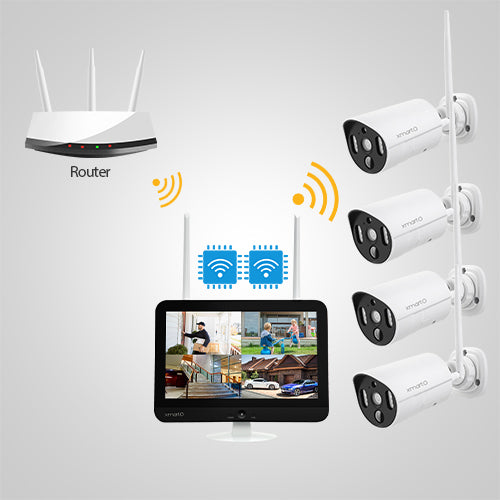 Dual WiFi Inside
The WNS58 has Dual-WiFi inside. No need to hard wire the NVR to router to get Internet connection, it connects to WiFi.
The NVR can be placed at a flexible spot to receive all cameras better.
Placing the NVR far from your router helps to avoid WiFi interference.
The NVR can be easily hid.
Tips: connect the NVR to WiFi in System setting - Network setting - Wireless Internet.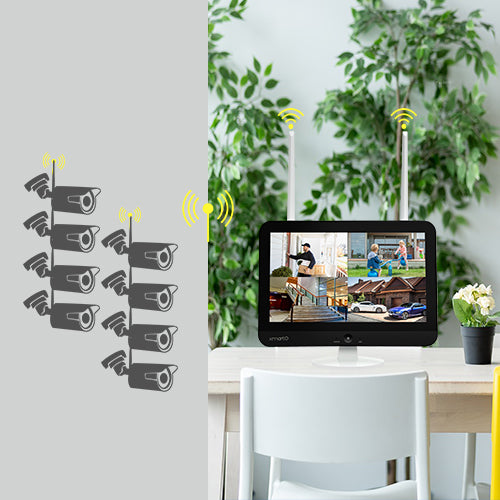 Support up to 8 Cameras
You can easily pair up to 8 xmartO WiFi cameras to this NVR according to your requirement
Connect it to Internet, you will be able to view all cameras remotely on mobiles from anywhere anytime.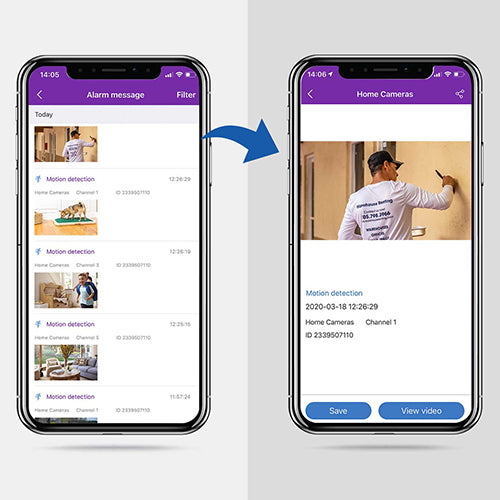 Motion Detection Message
When motion detected, the camera sends you a message with snapshot. Tap to view a video clip to get more details.
Each camera lets you turn ON/ OFF the motion detection message.
Each camera's detection area is customizable. This helps to avoid repeated messages caused by trees.
In App, you have a daily message list to check daily events.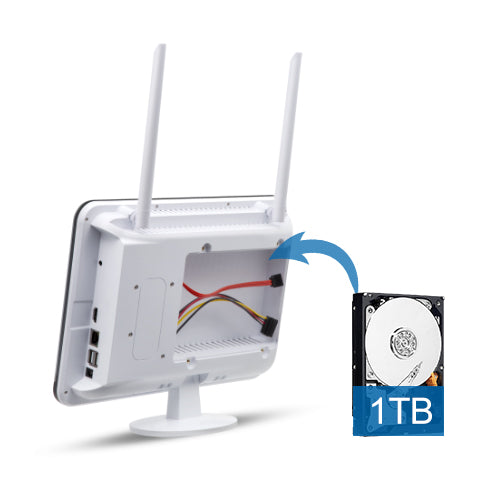 Standard SATA Hard Drive Dock
The NVR has a standard SATA hard drive dock, with which you can add a standard SATA hard drive.
With a 1 ~ 6TB hard drive, it keeps records of all cameras of past months.
Tips: the record time depends on your cameras' image quality, number of cameras and the record mode. The NVR will auto-loop the storage of HDD to record forever.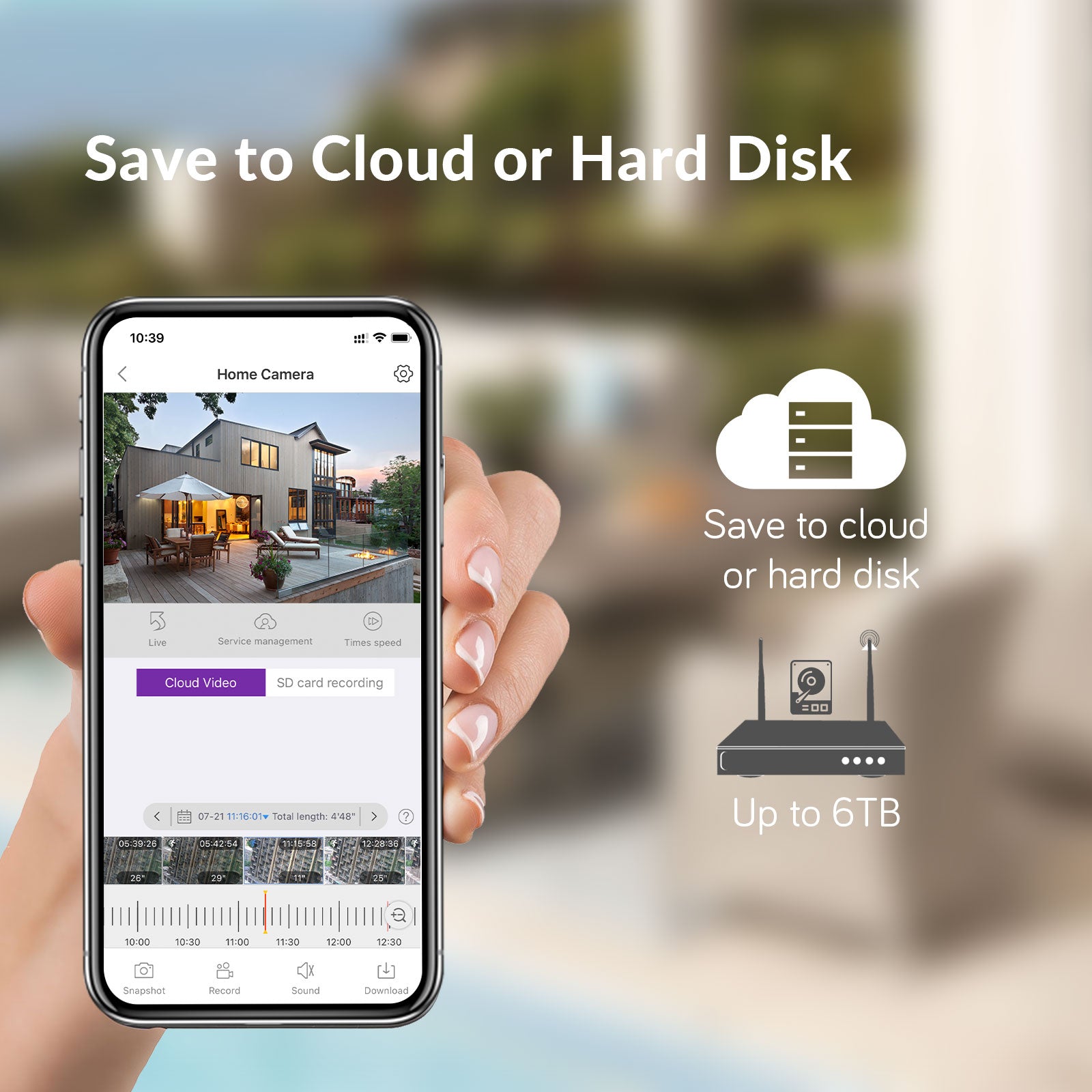 Secured Dual Storage Options
The 8CH 5MP NVR screen supports up to 6TB HDD and encrypted AWS Cloud storage.
You can choose one of them for recordings and playback.
Supports Versatile Add-on Cameras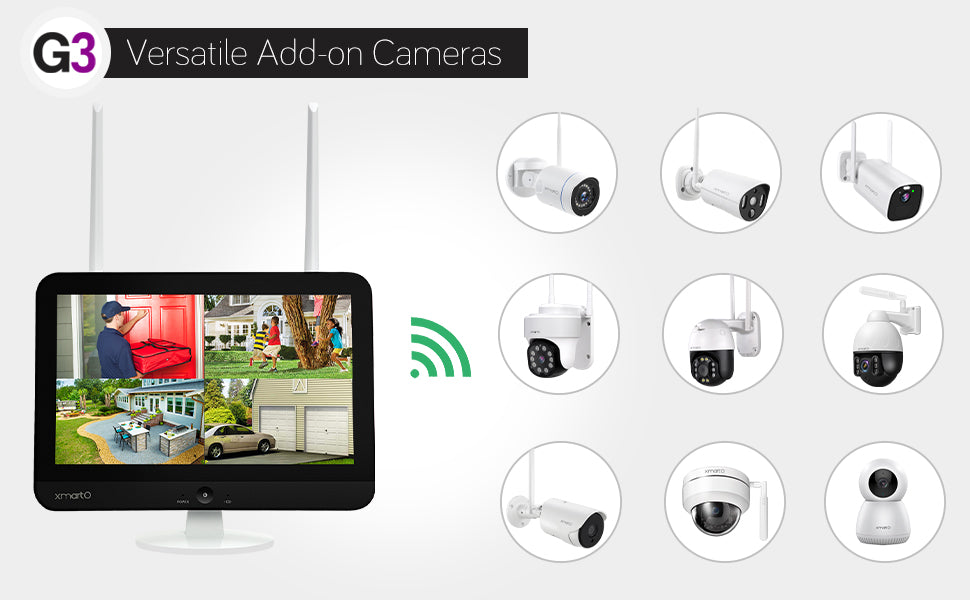 A Lot of Possibilities for DIY
This WNS58 NVR is compatible forward even with the 2015 WB1324 cameras. If you want more cameras, we have a lot options. Here is a compatible list:
Bullet cameras: WB2024-W, WG3034 WB1324N, WB1324, WB1326, WB2024, WB2026, WB2054, WB2056
Dome camera: WD1324
PIR sensing camera with 2-way audio: WP2K34, WW2024
Indoor PTZ camera: DPI2024
PTZ bullet cameras: , WT2054, WT20512, WZ3034, WP1324, WP1326, WP2024, WP2026, WP2054, WP2056
PTZ dome cameras: DPM2024, DZ2034, DZ20313, DT3034, DY3034, DX30530,WT2054
Battery-powered camera: BC3-SP
More...
If you have any question about compatibility, please contact support team via support email on product manual.
Product Specifications
Audio/ Video Out
HDMI Output
1 channel, Resolution:1024x768,1280x1024,1440x900,1920x1080, with audio
VGA Output
1-channel, Resolution:1024x768,1280x1024,1440x900,1920x1080
Video Audio Decode
Record Resolution
5MP/3MP/1080P/720P
Playback
4-channel@3MP, 2-channel@5MP
Video Management
Record Mode
Time, Motion and Alarm Recording
Playback Mode
Regular playback, Event playback
Video backup Mode
USB storage backup, App backup
External Ports
Network
1x RJ45 10M/100M self-adaptive Ethernet port
1x internal wireless network card
Antenna
2x integrated 2.4G WiFi antennas
Audio
1x 3.5mm headset port
Communication Protocol
Communication Protocol
N1, ONVIF
Power
Power in
Universal AC 100-240V to DC 12V 2A power adapter included