xmartO Home Security Camera System - 8CH 12" IPS NVR + 2 Outdoor Cameras + 2 Indoor PTZ Cameras, 1TB HDD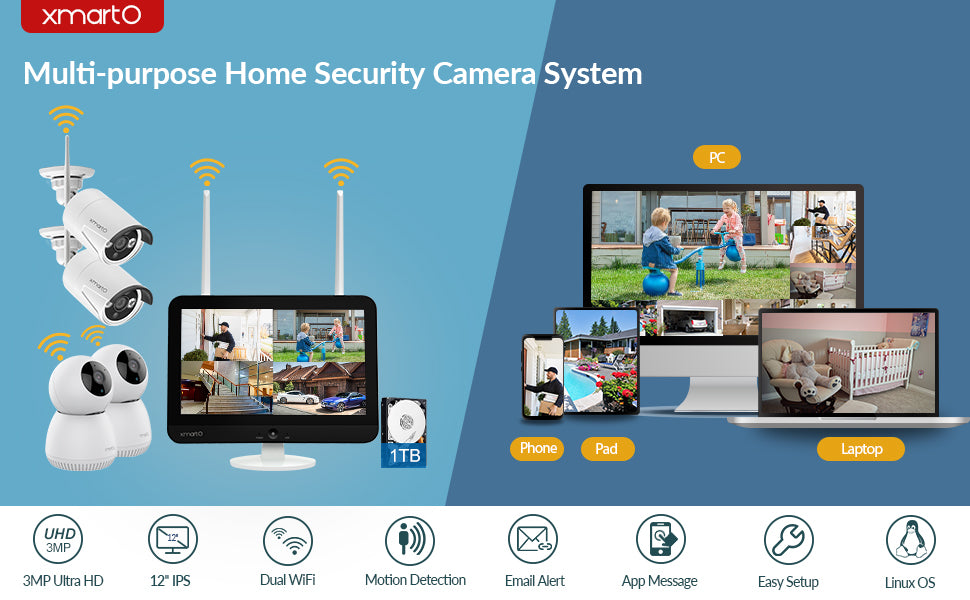 A Combo for Householders
This xmartO WSS30822 home security kit is designed for householders and families.
The 2 outdoor cameras let you cover your porch and backyard.
The 2 indoor PTZ cameras let you view the 1st and 2nd floor.
If 4 cameras are not enough, you can easily get 4 extra cameras. (outdoor cameras model # WB2024-W, indoor cameras model # DPI2024).
With the 8-channel NVR for 8 cameras, you can easily mange 8-camera view for a house, or even an office.
The NVR comes with a 12" IPS HD screen. The system is literally plug N play even you don't have a spare monitor for it.
If you feel like to see bigger image, you can connect to your TV; if you want to view when you are away, you can do it right from your smartphone, easy as a breeze.
G3 Auto WiFi Relay Technology

Powered with XMARTO's G3 Auto WiFi Relay technology, the security camera system automatically sets a closer camera as WiFi repeater for a further camera to boost its WiFi distance. This gives you more flexibilities of where to mount the cameras.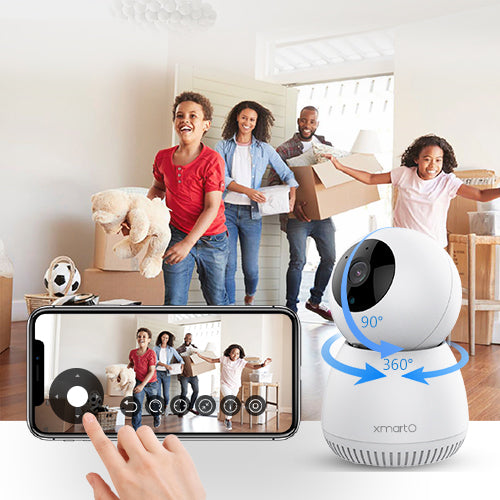 Easy PTZ Control from a Phone or an NVR
The indoor camera lets you navigate from the phone App or from the NVR's joystick. Easily covers the whole room.
The 4 times digital zoom enables you to zoom in to see details while needed.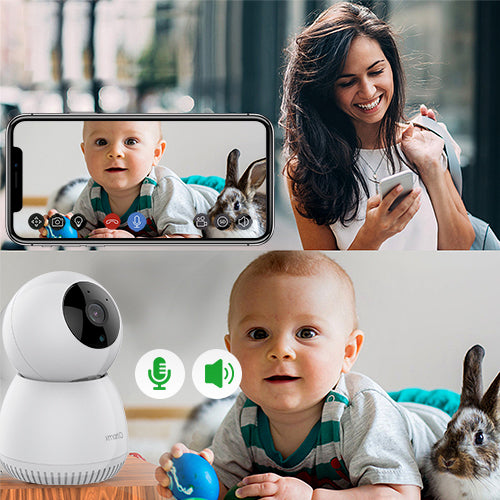 2-way Audio
With 2-way audio, you can hear and talk to your loved ones while watching.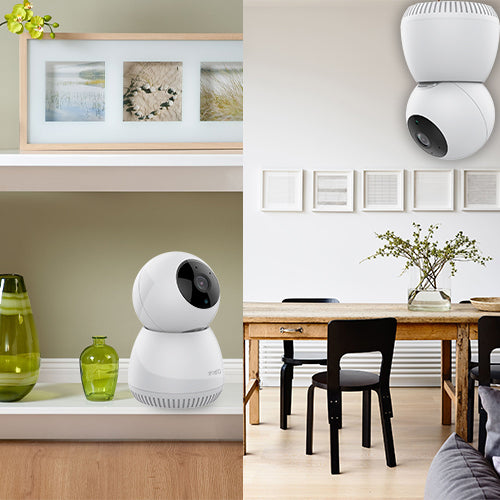 Place on a Surface or Mount on Ceiling
The indoor camera can be easily placed on any surface such as a table, or a shelf.
With a mounting piece and the image upside down option, you can also mount the camera on ceiling.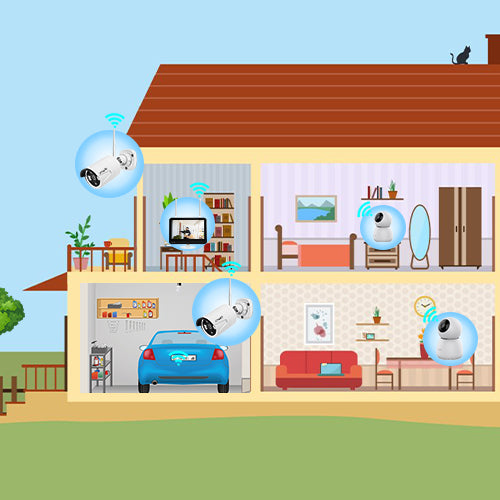 Cover Your Home Area, Indoor and Outdoors
An outdoor camera for your front porch and garage.
An outdoor camera for your backyard.
An indoor camera for floor 1, another for floor 2 or the baby room.
You are fully equipped with a 24*7 home surveillance system.
IP66 Weather-resistance and IR Vision
The outdoor cameras withstand rain and snow. They can be mounted anywhere.
With strong IR LEDs Array, the cameras see clear even in pitch darkness.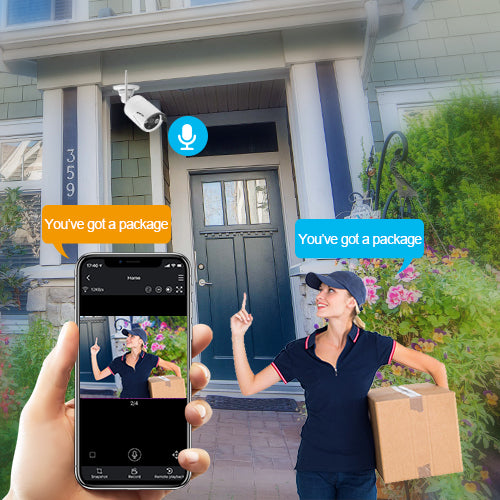 Hear Voice with the Ultra HD Videos
With a built-in high-gain microphone, the outdoor cameras pick up audio.
The 3MP ultra HD cameras deliver crystal clear image, day or night.
Tips: the outdoor cameras do not have speakers in. You can hear the voice; yet cannot talk through the camera.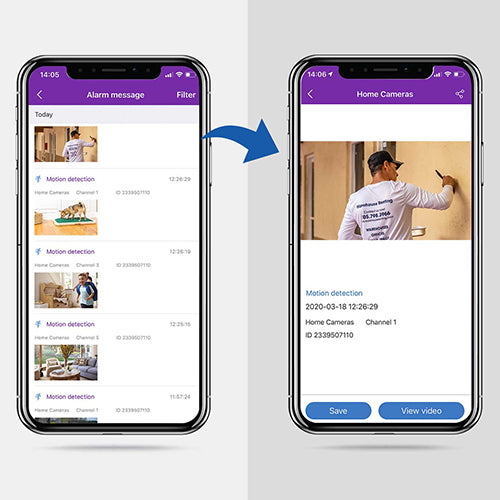 Motion Detection Message
When motion detected, the camera sends you a message with snapshot. Tap to view a video clip to get more details.
Each camera lets you turn ON/ OFF the motion detection message.
In App, you have a daily message list to check daily events.
Each camera's detection area is customizable. This helps to avoid repeated messages caused by trees.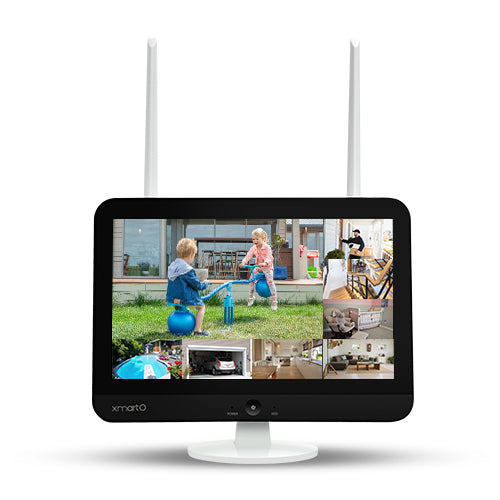 An Integrated HD Screen
With a 12" HD (1366*768) screen integrated, your surveillance system is up and running without an extra monitor.
The HDMI port enables you to hook to a bigger screen when needed.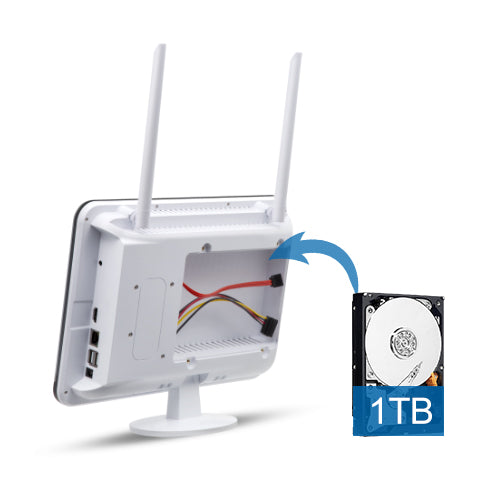 Save Past Months to a Hard Disk
The NVR supports both 2.5" and 3.5" SATA hard disk, up to 6TB (not included).
With a 1~6TB hard drive, it keeps records of the past months; and loop records with the space.
Being wireless, the NVR and HDD can be easily hid to keep video records, even the cameras were broken.
Keeping 24*7 videos, the system highlights the motion-triggered videos. So while you playback on the NVR or the phone, you can jump to the highlighted videos to find out what happened.