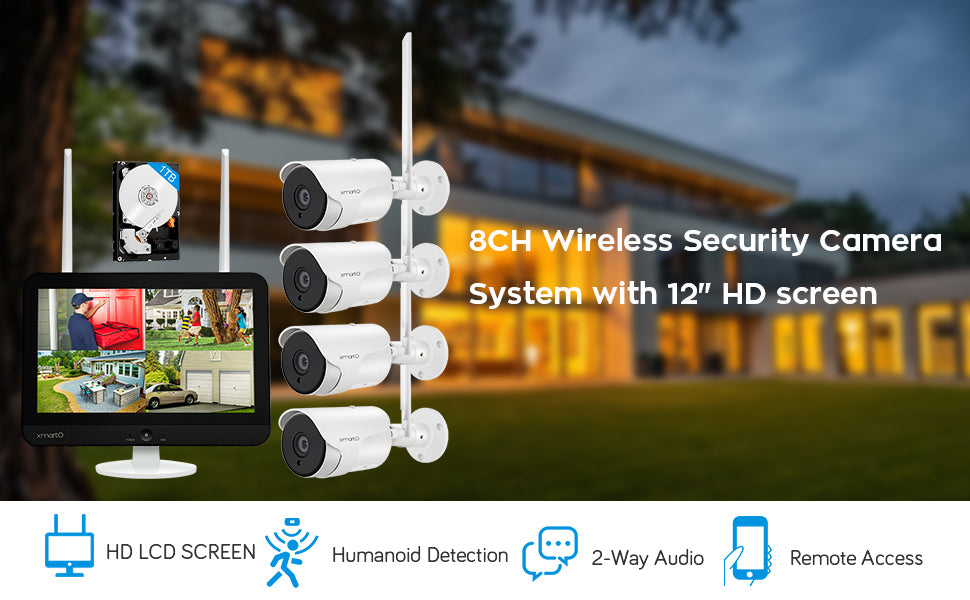 8CH Wireless Security Camera System with 12'' HD Screen
Know before you buy
Needs plug in for Power: 100-240V AC to DC 12V, plug to a nearby outlet. Power plug comes with 10ft cable, search "12V power extension cable" on Amazon for longer cables.
The XMARTO WSG3084-1TB is equipped with the 4 cameras, the 12 inch integrated LCD NVR and 1TB HDD, it's literally plug and play and very easy to set up.
It has a 12-inch HD screen integrated, If you found 12" screen is not big enough, you can connect it to a monitor or a TV with its HDMI port.
With All-in-one 12'' NVR Monitor, it is with 8 channels and 5MP resolution. You can add up to 8 xmartO WiFi cameras, from 720p cameras to 5MP cameras.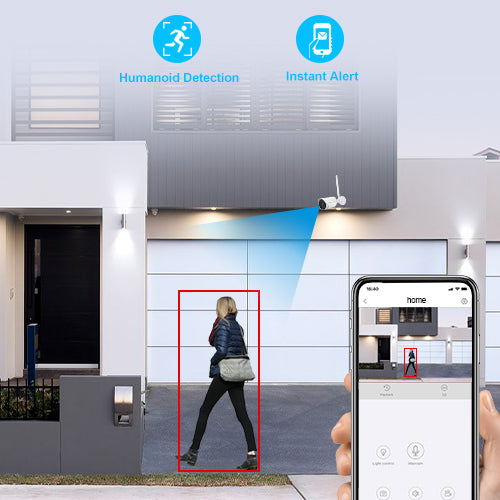 AI Humanoid Detection and Instant Messages
Powered with AI human detection, when people detected, the camera captures a human shape and send instant notification to your phone. It can reduce the false alarm.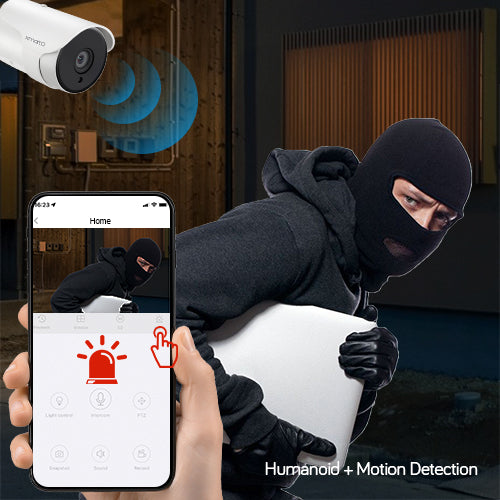 One-tap Instant Siren Alarm
It takes only a tap to sound an alarm siren to deter an intruder away on xmartO wallpixel APP.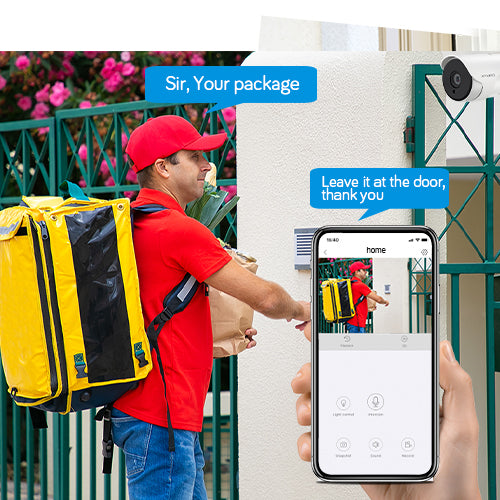 Enhanced 2-way Audio
With Built-in microphone and speaker, you can hear and talk back to your family, pet or the visitors on your mobile phone no matter where you are.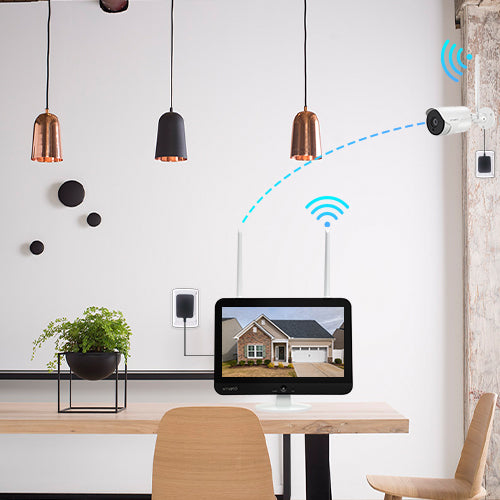 Plug and Play
The Cameras have paired to the NVR in before leaving the factory. You just Need to plug the NVR and cameras with Power Supply and NVR mount the cameras within WiFi range to start monitoring.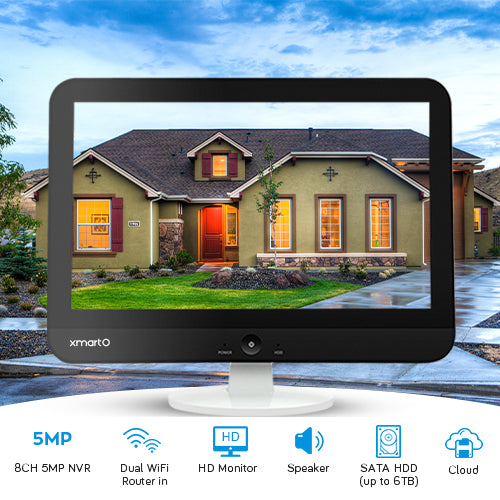 All-in-one 8CH WiFi NVR
The WNS58 has same mainboard as WNQ28. It works exactly the same as the original NVRs in xmartO WiFi camera systems.
You don't have to find a screen specially for the NVR. You can connect it screen to a bigger monitor or TV with the HDMI cable if this NVR screeen is not big enough for you.
The WNS58 has full size SATA hard drive dock, you can install 3.5" or 2.5" SATA hard drive into it. (up to 6TB)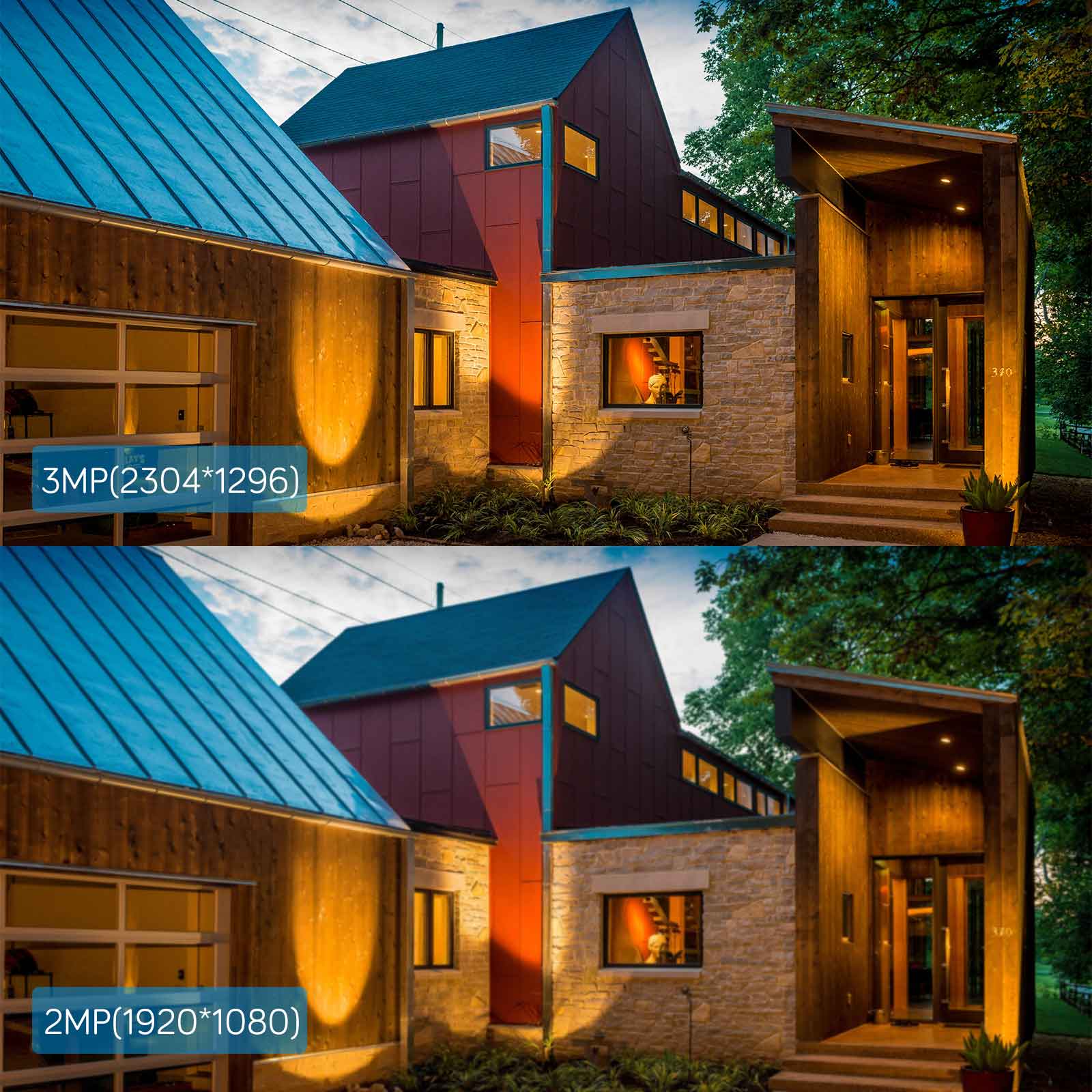 2K High Quality Resolution
Compared with xmarto's previous 960 and 1080p image quality, the upgraded 2K is clearer and smoother than before.
It shows more visible details and brighter colors, provide you with a better using experience.
Auto WiFi Relay
The security camera system automatically sets a closer camera as WiFi repeater for a further camera to boost the WiFi range. This will increase the signal of cameras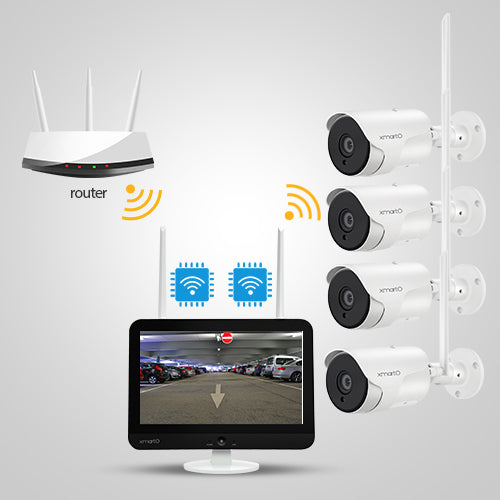 Dual WiFi Inside
All cameras connect the built-in WiFi modules and don't use your home WiFi band-width.
Your NVR can connect your home WiFi wirelessly, it's convenient for you to put the NVR anywhere you want without the hassle of hard wire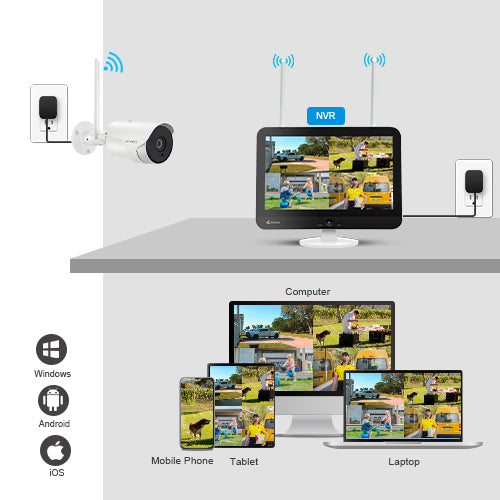 Easy Remote View
When you connect your wireless security camera system to your home WiFi. You can view the cameras on free xmartO WallPixel Apps, it takes only a few minutes to add your security system to the App for remote viewing on iOS, Android, PC and Mac devices.
IP66 Weatherproof
With IP66-rated weatherproof, the camera can work well under any weather conditions in each season such as snow, rain, wind and so on and it can be mounted anywhere indoor or outdoor.
Clear Day Vision and Night Vision
The camera works 24 hours a day and 7 days a week.
Under the dark enviroment, camera's infrared mode is automatically activated.
With professional IR LEDs, the cameras see clearly even in pitch darkness.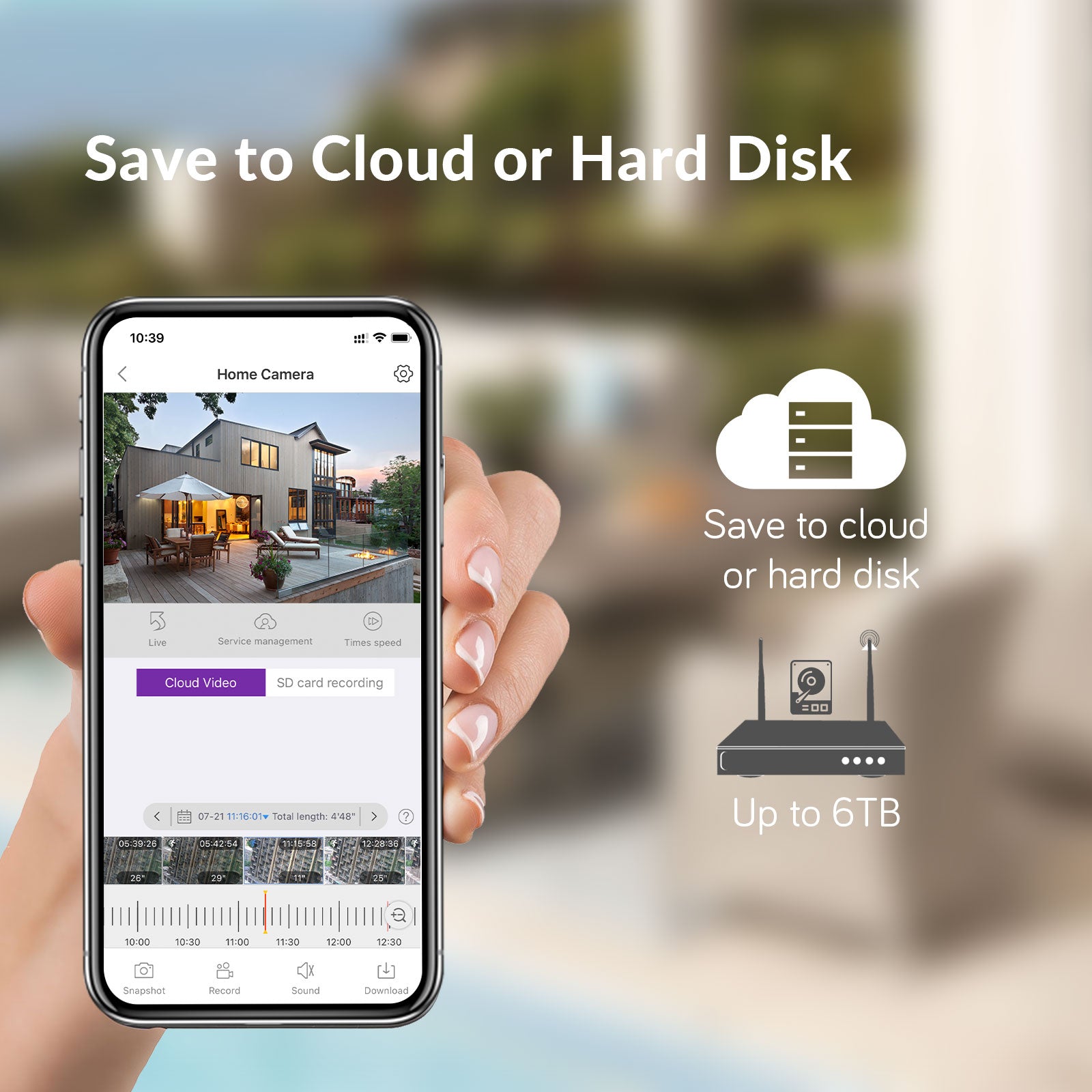 Secure and Dual Storage Way
The 8CH 5MP NVR screen supports up to 6TB HDD and encrypted AWS Cloud storage.
You can choose one of them for recordings and playback.
Product Specifications
NVR
Audio/ Video Out
HDMI Output
1 channel, Resolution:1024x768,1280x1024,1440x900,1920x1080, with audio
VGA Output
1-channel, Resolution:1024x768,1280x1024,1440x900,1920x1080
Video Audio Decode
Record Resolution
5MP/3MP/1080P/720P
Playback
4-channel@3MP, 2-channel@5MP
Video Management
Record Mode
Time, Motion and Alarm Recording
Playback Mode
Regular playback, Event playback
Video backup Mode
USB storage backup, App backup
External Ports
Network
1x RJ45 10M/100M self-adaptive Ethernet port
1x internal wireless network card
Antenna
2x integrated 2.4G WiFi antennas
Audio
1x 3.5mm headset port
Communication Protocol
Communication Protocol
N1, ONVIF
Power
Power in
Universal AC 100-240V to DC 12V 2A power adapter included
Camera
Minimum Working Illumination
Color: 0.1 Lux, B/W: 0.01 Lux
Video Compression
H.264/ H.265, dual stream
Video Output
Main: 2304*1296, Sub: 640*360
Image Flip
Horizontal/ vertical flip
Audio in/ out
Microphone
High-gain microphone inside
Speaker
Enhanced speaker inside
Light
Infra Red Night Vision (B/W)
up to 100ft (30m)
Storage
Micro SD Card
Maximum 128GB ExFAT or FAT32
Cloud Storage
Optional with free trial
Notification
App
Instant App push notifications
Email
Email notifications
Reliability
Lightning protection
TVS 4000V thunder-proof, Anti-surge
Working Temperature
-4~149℉ (-20~65℃)
Protection Grade
IP66 Weatherproof
Power
Power in
Universal AC 100-240V to DC 12V 1A power adapter included
Communication Protocol
Communication Protocol
N1