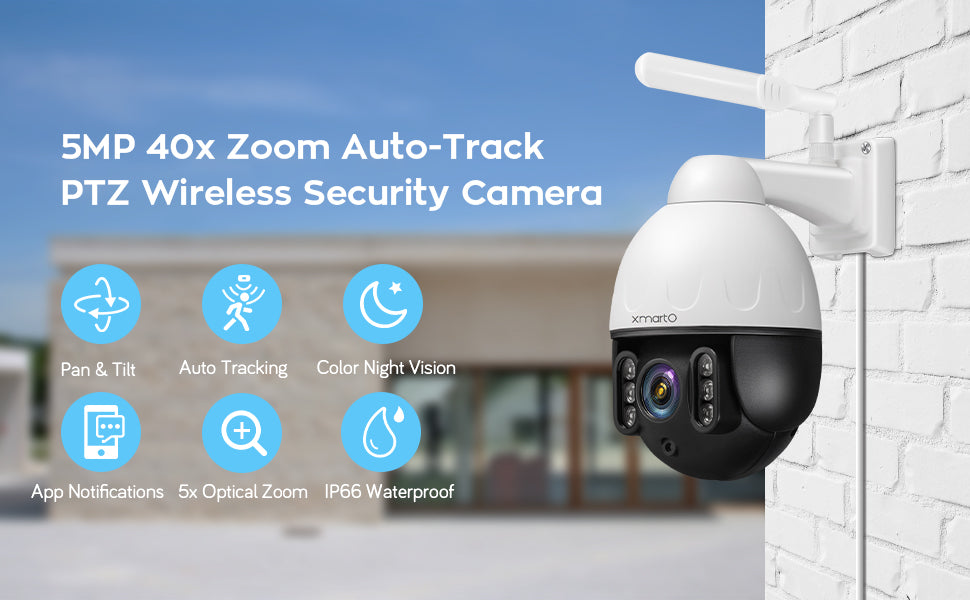 xmartO 5MP Pan Tilt 5X Optical Zoom WiFi Camera with Auto Tracking, Siren Alram and Color Night Vision(plug-in)
Know before you buy
WiFi: 2.4G only
Needs plug in for Power: 100-240V AC to DC 12V, plug to a nearby outlet. Power plug comes with 10ft cable, search "12V power extension cable" on Amazon for longer cables.
Initial setup tips: for initial setup, use an Ethernet cable to hardwire the camera to your router, "Scan the LAN" in App, then enter camera's "Device Setting" to set Device WiFi.
This xmartO 5MP PTZ camera can work alone, in Group, or add-on to NVR system.
With 5MP (2560*1920) Ultra HD sensor, it delivers crystal clear videos.
With 5x optical zoom lens, times the 8x digital zoom, you have a total 40 times zoom in and out, helps you to zoom in to see more details without reducing the image resolution or quality.
With 360° pan and 55° tilt, the camera's own 90° view angle and easily covers the whole area. you can control the camera moving left and right through Pan tilt control on the phone APP no matter where you are.
Auto Tracking. The camera automatically tracks movements and record activities
With two-in-one infrared LEDs and spotlights, you can choose the IR night vision(black and white) , floodlight night vision(color night vision) and smart mode.
This camera supports up to 128GB SD card storage (not included) and 30-day free encrypted cloud storage.
With an SD card slot, the security camera can store all moments to cloud or local SD card when motion is detected.
You can choose one of them for recordings and playback.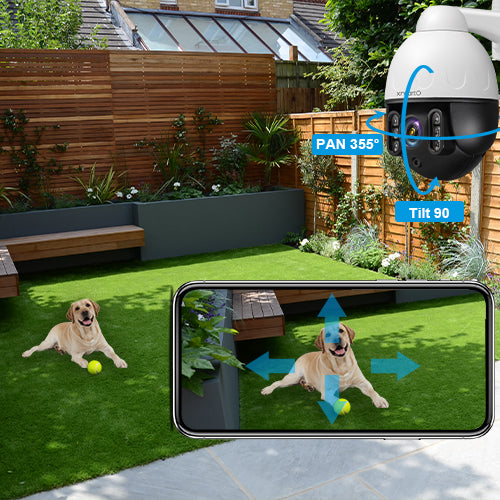 Remote PTZ control on your phone
With the horizontal movement of 360 ° and vertical of 90 ° view angel, the camera covers every corner, you can control the rotation of the camera from side to side / up and down remotely.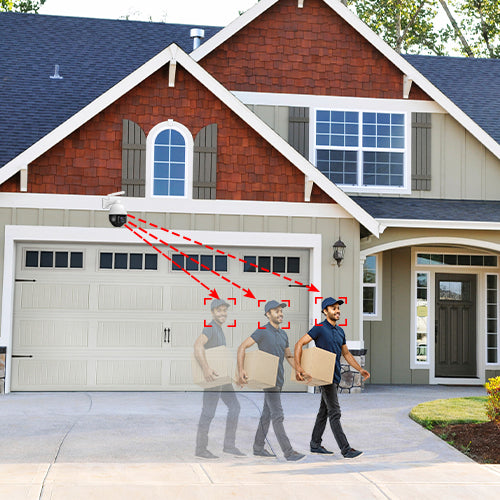 Auto Tracking
The auto tracking function make the camera tracks movements and record activities automatically and the alarm notification will be pushed on your smart device, enable you to see what happend.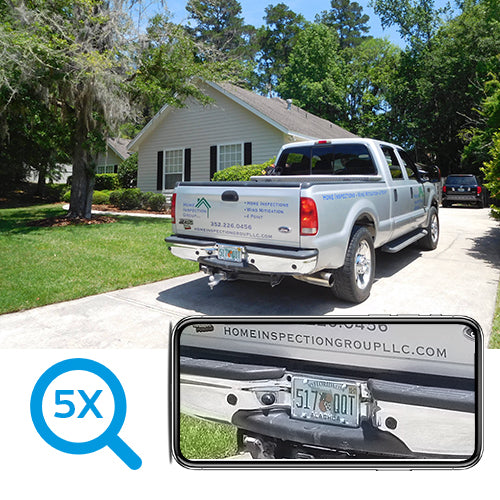 5x Optical Zoom
Equipped with a 5x optical lens, the PTZ camera allows you to zoom in for more details or zoom out for wider coverage without reducing the image resolution or quality.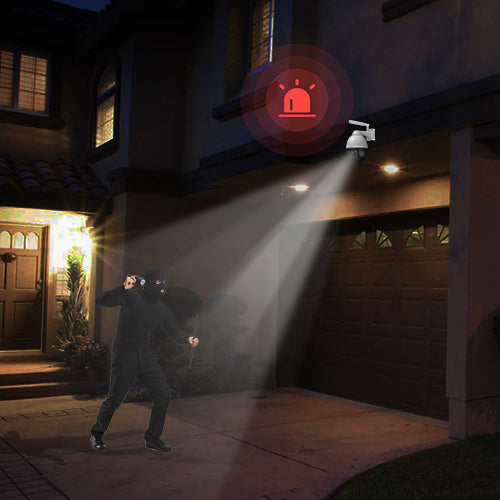 Auto Floodlight and Siren
When intruders break into your house, the camera automatically turn on the flood light at night and will sound an automatic siren to deter intruders away. You can customize the siren to a voice message and warn the potential intruders.
The siren can be turned on/off on your phone APP.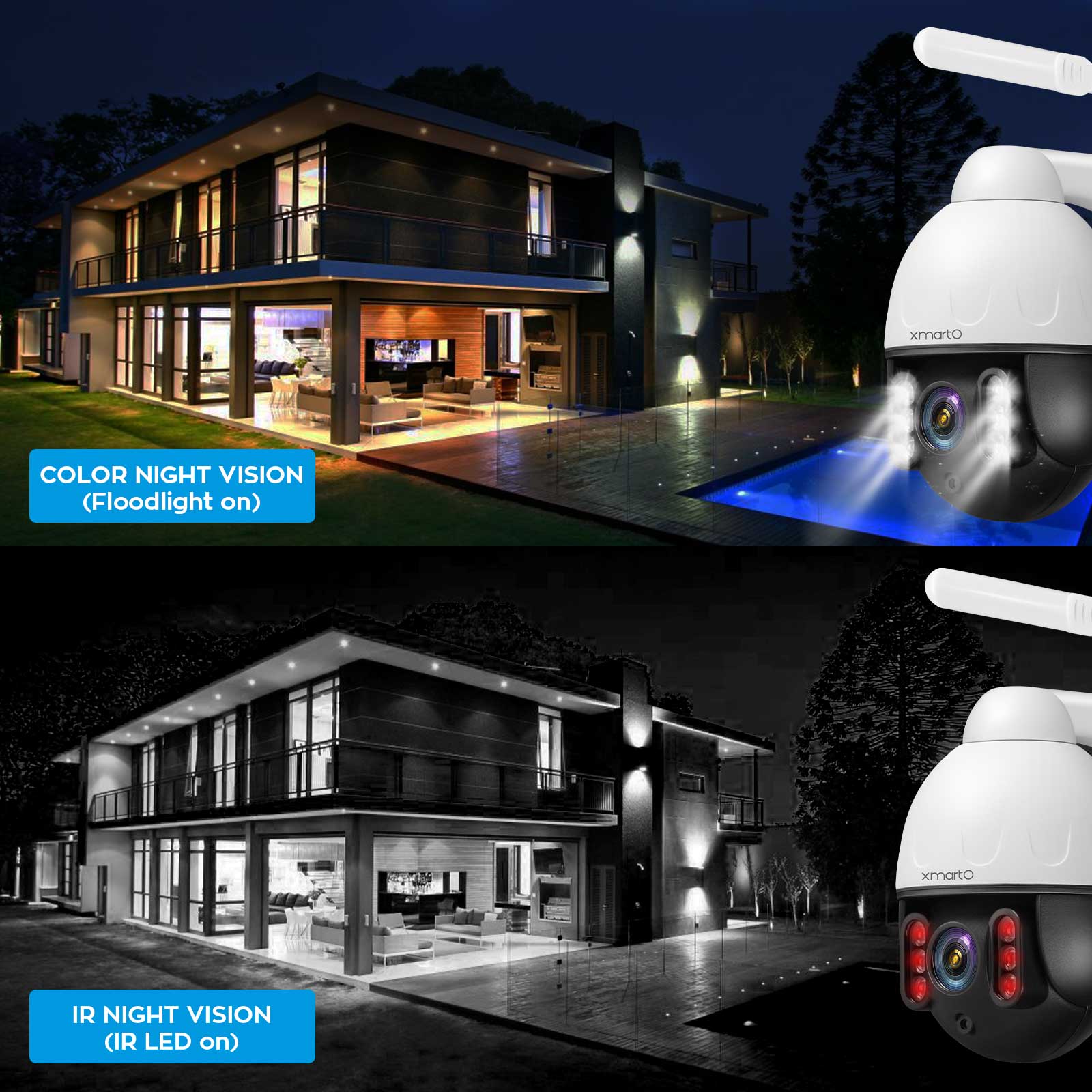 Smart Night Vision Mode
With two-in-one infrared LEDs and spotlights , this PT camera has multiple night vision mode:
Infrared Mode: When the IR LED lights work, the camera have the B/W night vision
Full Color Mode: When the floodlights keep turnning on, the camera turns to the color night vision.
Smart Mode: At night IR LEDs turn on and camera see B/W night vision when no one is there. When the camera detects the motion movements, the Floodlights will be activated and turn to color night vision.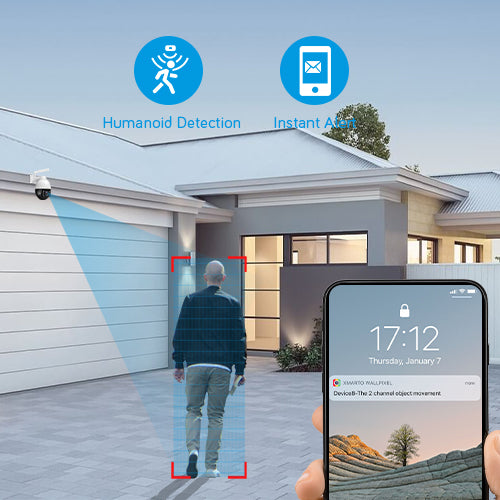 Humanoid Detection and Instant Alerts
Powered with AI human detection, when people detected, the camera captures a human shape and send instant notification to your phone. It can reduce the false alarm. Tap to view the video if you find a photo is not enough.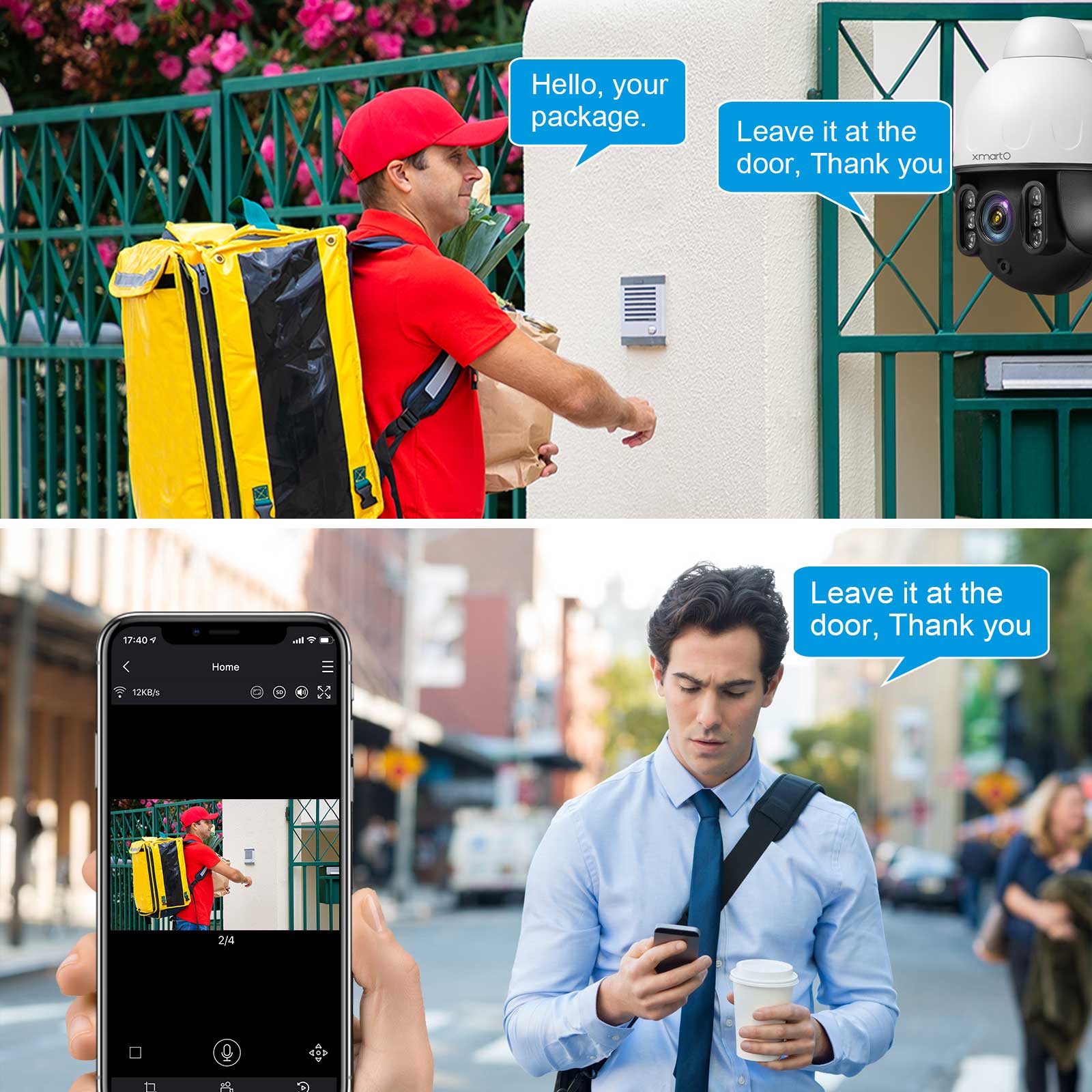 Enhanced 2-way Audio
With Built-in microphone and speaker, you can hear and talk back to your family, pet or the visitors on your mobile phone no matter where you are.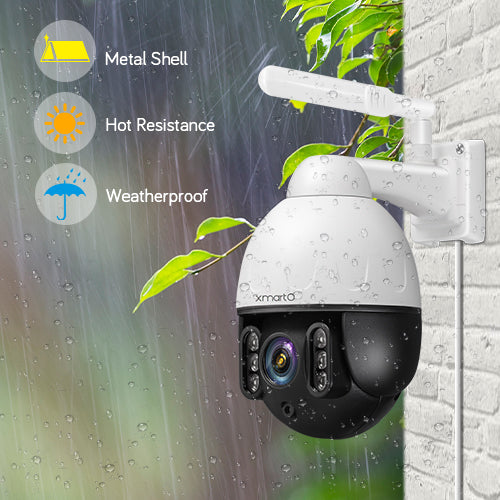 IP66 Weatherproof and Vandal-proof
With IP66-rated weatherproof, the camera can work well under any weather conditions in each season such as snow, rain, wind and so on and it can be mounted anywhere indoor or outdoor.
The security outdoor camera is equipped with metal shell which structure is strong and can't be damaged easily.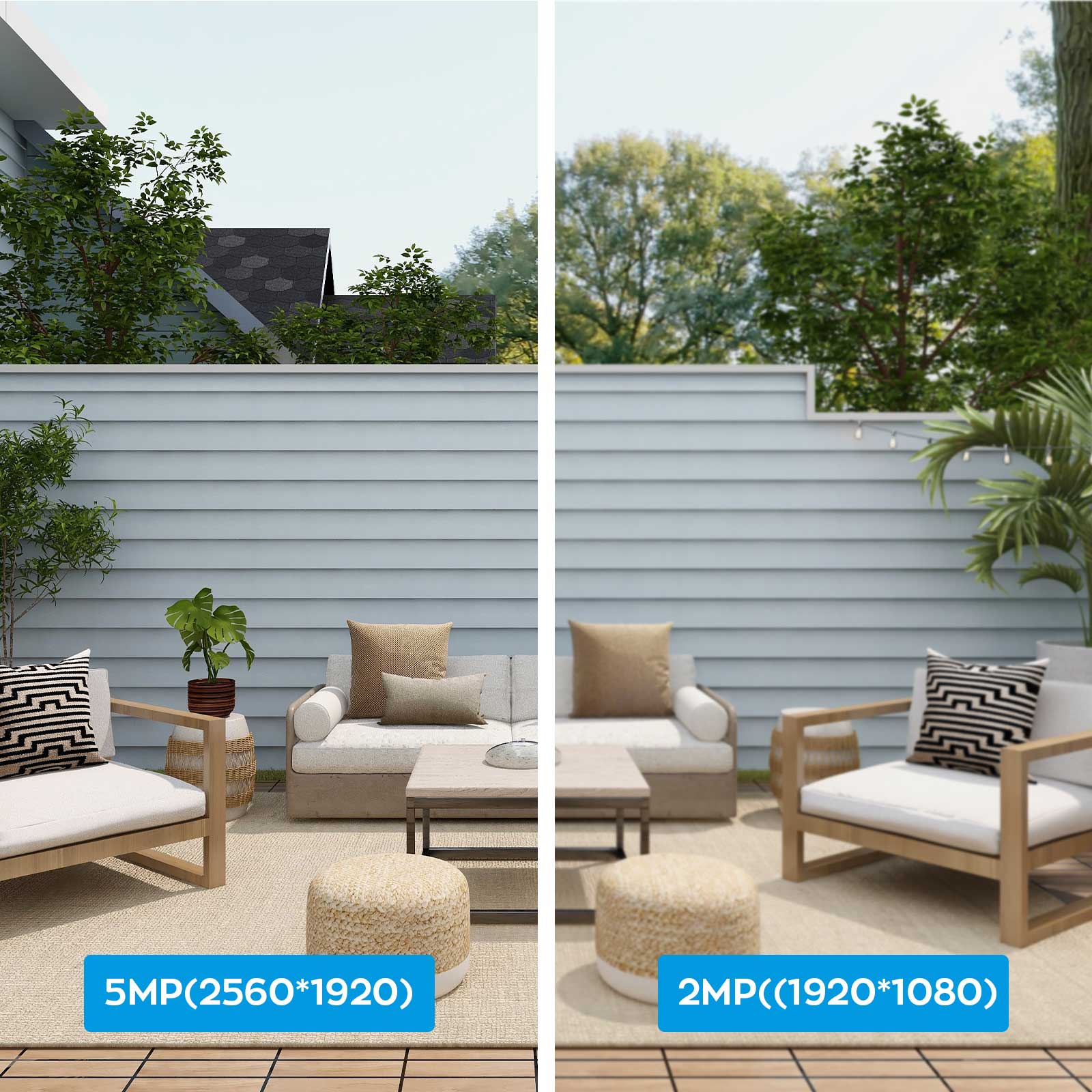 5MP High Resolution
With 2560*1920 resolution, this security camera delivers 5 mega pixel ultra HD videos which can give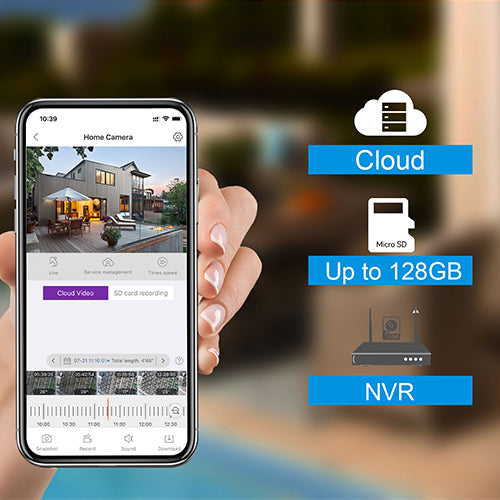 Saves to SD Card, NVR and Cloud
Insert an 8~128GB micro SD card to records your videos of past months.
Pair it to an XMARTO NVR and save videos of past years to the hard drive.
Subscribe the reasonably-priced WallPixel Cloud and save the videos to the encrypted AWS server.
You are free to use any, or all of them simultaneously.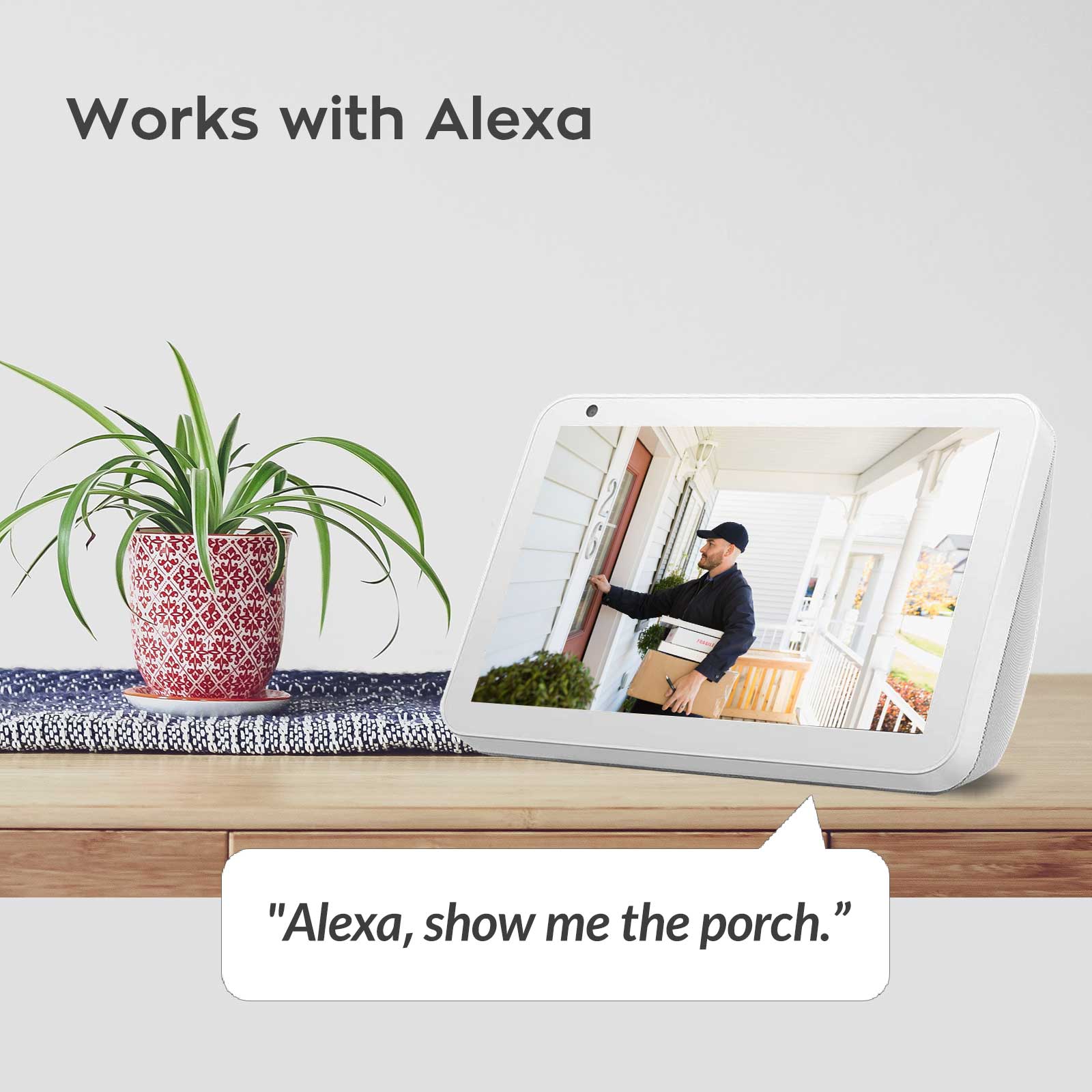 Work with Alexa
The xmarto cameras support to work with Alexa, you can fast access your camera hands-free with your voice to activate camera features with Amazon Alexa.
Multiple ways to use
You can use this camera alone, group multiple cameras to use or add this camera to an existed xmartO NVR or xmartO systems.
NOTE: if you use this camera with your NVR, make sure to upgrade NVR to 3.1.6 or later for better performance.
Product Specifications
Minimum Working Illumination
Color: 0.1 Lux, B/W: 0.01 Lux
Video Compression
H.264/ H.265, dual stream
Video Output
Main: 2304*1296, Sub: 640*360
Day/ Night Switch
IR-CUT auto switch, IR/ Night Color/ Smart 3 modes
Image Flip
Horizontal/ vertical flip
Audio in/ out
Microphone
High-gain microphone inside
Speaker
Enhanced speaker inside
Light
Infra Red Night Vision (B/W)
up to 100ft (30m)
Color Night Vision
up to 60ft (18m)
Light Mode
IR/ Night Color/ Auto selectable
Storage
Micro SD Card
Maximum 128GB ExFAT or FAT32
Cloud Storage
Optional with free trial
Notification
App
Instant App push notifications
Email
Email notifications
Reliability
Lightning protection
TVS 4000V thunder-proof, Anti-surge
Working Temperature
-4~149℉ (-20~65℃)
Protection Grade
IP66 Weatherproof
Power
Power in
Universal AC 100-240V to DC 12V 1A power adapter included
Communication Protocol
Communication Protocol
N1