240x Zoom Professional AI Security Camera - WiFi or Hardwire Installation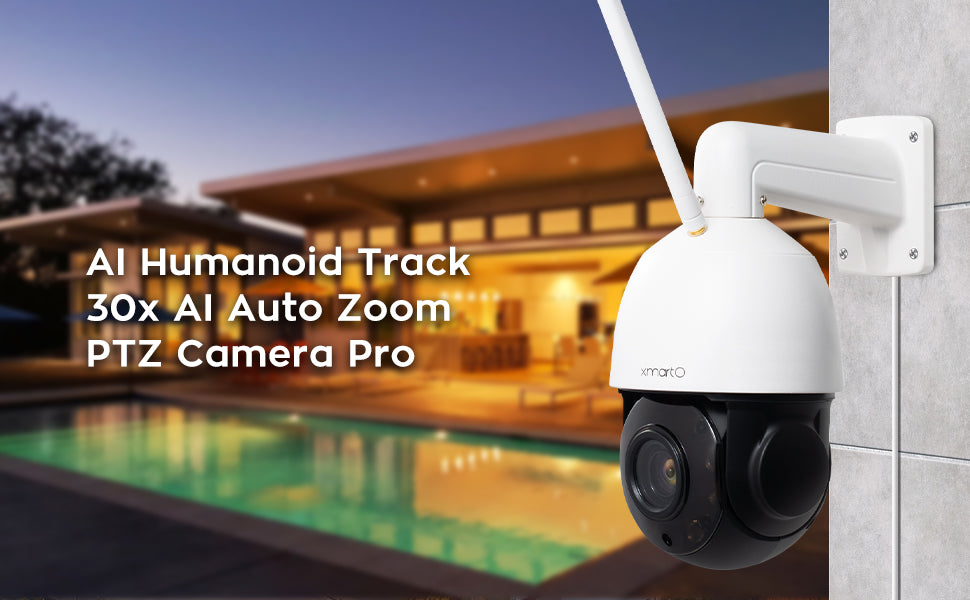 The XMARTO DX30530 is a professional PTZ cameras for customers with higher demands. The 30x optical zoom and Auto-Track PTZ enables it to monitor a much bigger area than common cameras. This camera works standalone with WallPixel phone App, SD card and Cloud recording; it also performs an add-on camera to existed XMARTO NVRs/ NVR systems.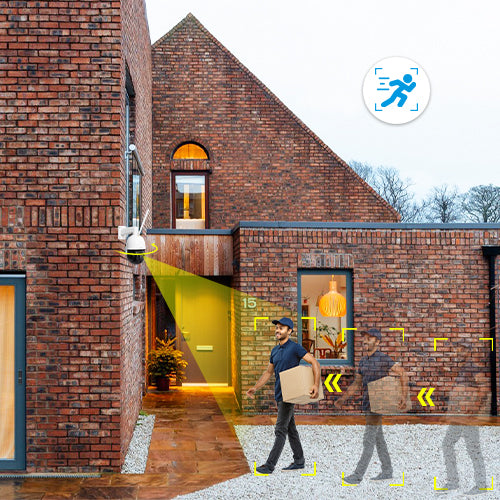 AI Auto Track, Auto Zoom
Features latest AI technology, the camera detects human and automatically tracks the people's movement.
AI Auto Track
Auto return to home point after track
Auto zoom in and out to see people in better view
The AI technology powers the camera to work on itself, like you are operating.
This helps to watch your property without missing any event, even while you are not watching.
30x Optical Zoom, 8x Digital Zoom
The 240x zoom of this professional camera is beyond our description.
30x optical zoom
8x digital zoom
With that zoom capability, you can see clearly of each grass, from 100+ yards away.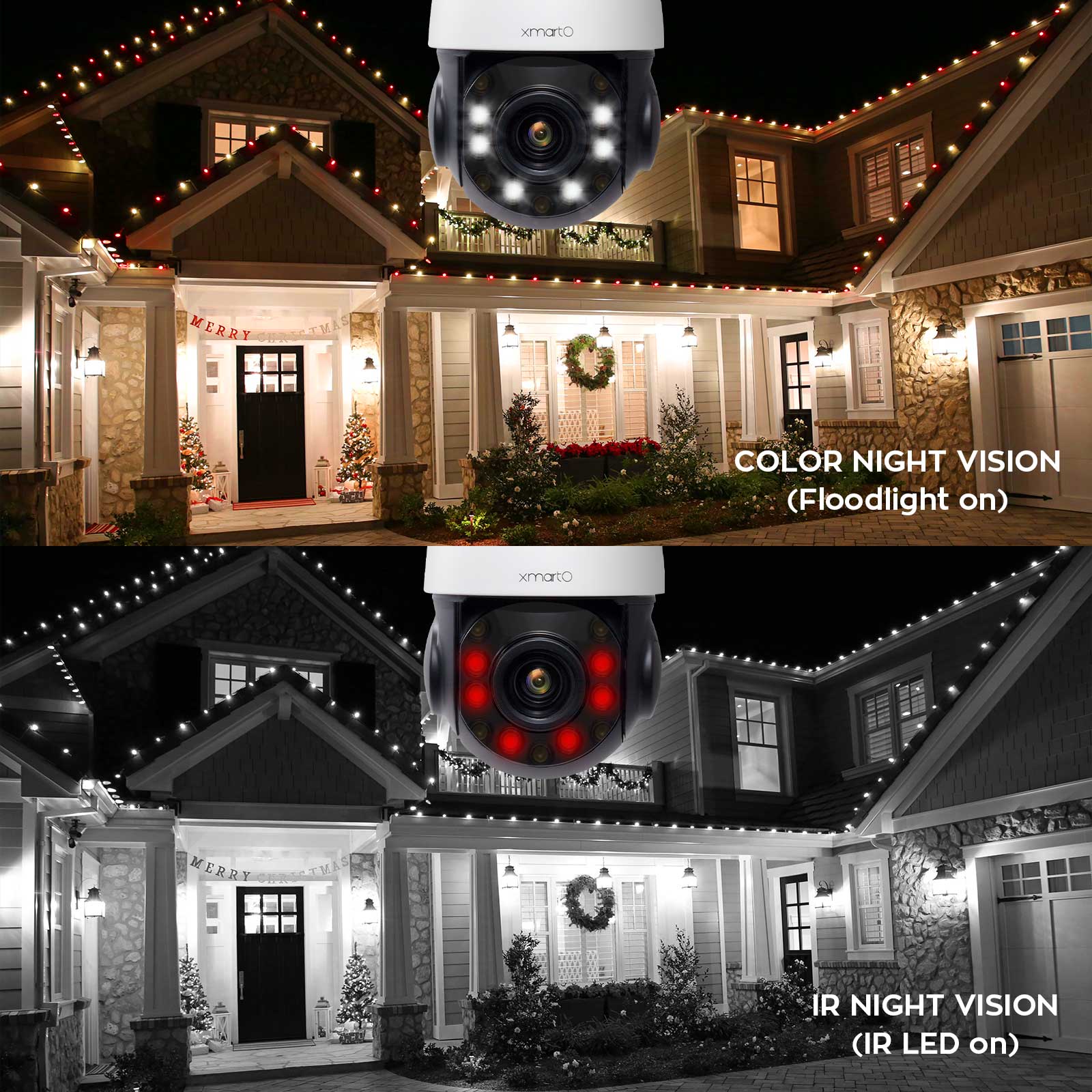 AI Auto Flood Lights and Color Night Vision
This camera integrated 6 super strong dual-light LED Array.
When the LEDs perform Infra-red light, they illuminate up to 300ft at night.
When the LEDs perform LED flood lights, they delivers up to 720lm light and give you color night vision.
When motion detected at night, the camera automatically turn on the 6 LED flood lights. This lights up the area for you, and deters intruders away.
When the area is still, it automatically turns off the flood lights and turn on the 6 IR LEDs, delivers clear Black and white night view.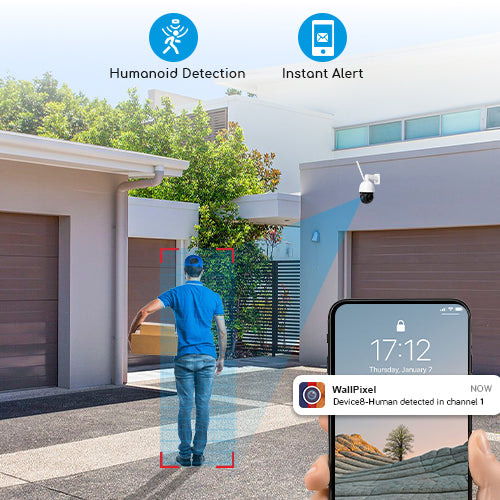 AI Humanoid Detection Messages
When human detected, you receive a real-time App alerts with snapshots. A tap to view the video clip.
Even you are not aware of that, you can retrieve the past days in the message list.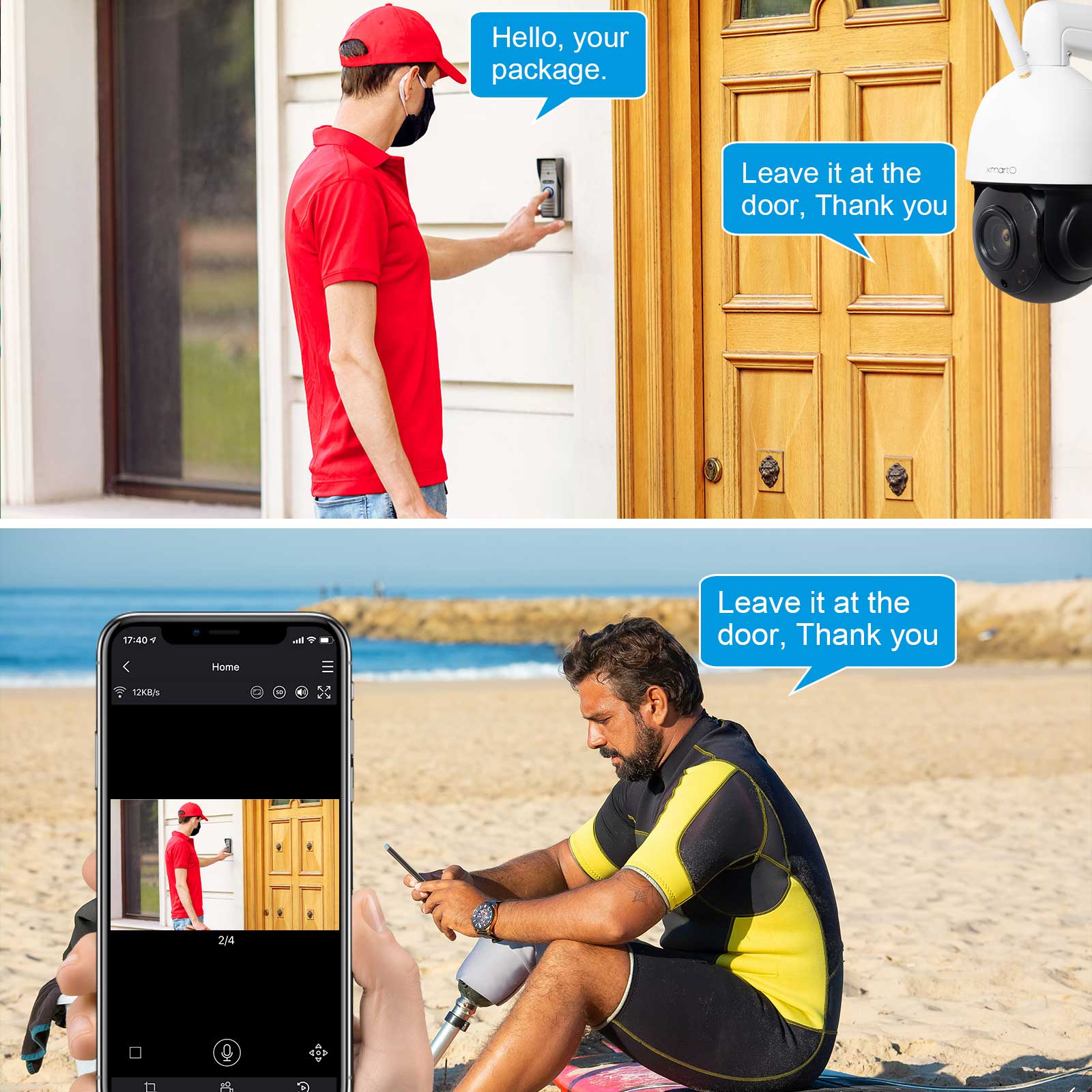 Enhanced 2-way Audio
A high-gain microphone and an enhanced speaker is built-in, enabling you to hear and talk clearly.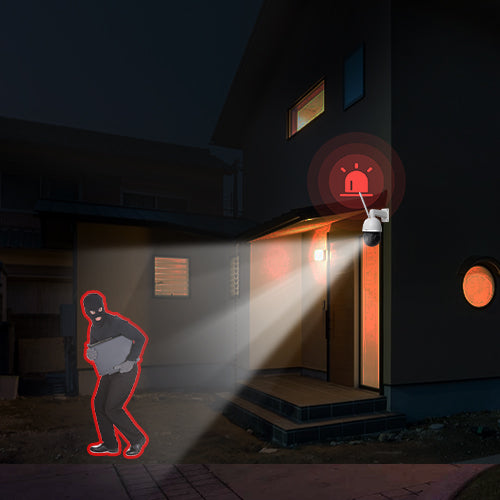 Auto Floodlight and Siren
At night when human detected, the camera automatically light up the 720lm flood lights. For intruders it's deterrence; for you and your family, some light at night is simply not disturbing.
The siren is the next step, you decide whether to trigger it. It takes only a tap in the App, to turn on or turn off.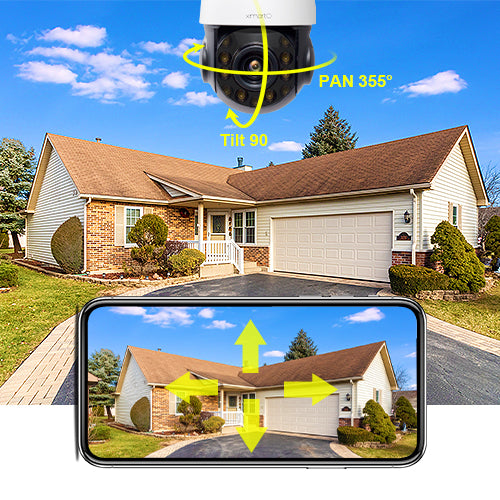 Remote PTZ Control
No matter where you are and when, you can navigate the camera to view any direction, and zoom to see details.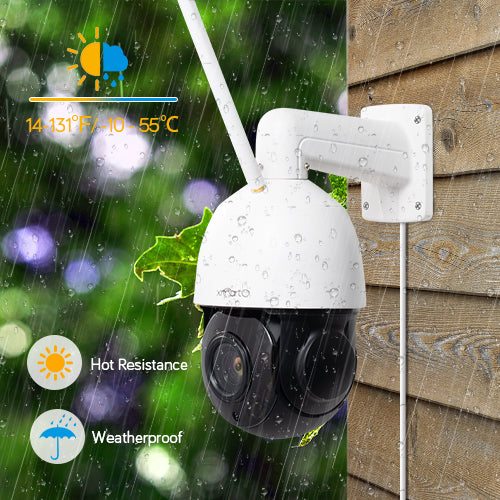 IP66 Weatherproof and Vandal-proof
The camera is IP66 rated for outdoor.
The solid metal camera is vandal-proof.
You can cable into the wall to protect its power wire.
Wi-Fi or Hardwire It
To use it via WiFi, or simply hardwire it to your router/ switch, is up to your mounting location.
If the camera is mounted within very good WiFi reception, using it via WiFi will save your cables and cabling.
If the camera is out there somewhere with not-so-strong WiFi signal, it's a better idea to simply hardwire it to router for eternal connection. Then you can add it to your phone App, or find it in NVR's camera manage.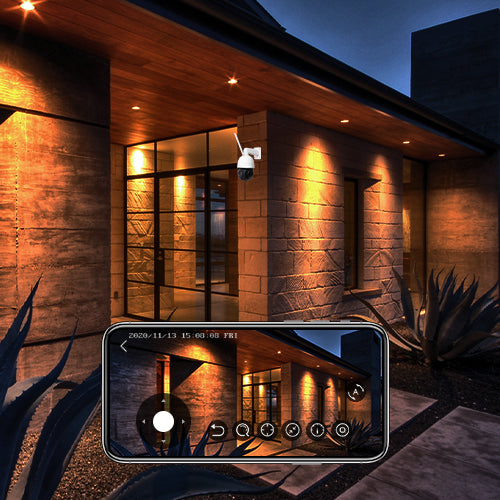 2K Super HD
The 2K 1296p super HD surpasses the resolution of most mobile and monitor screens.
The security camera delivers crystal clear image, especially with the huge vari-focal lens.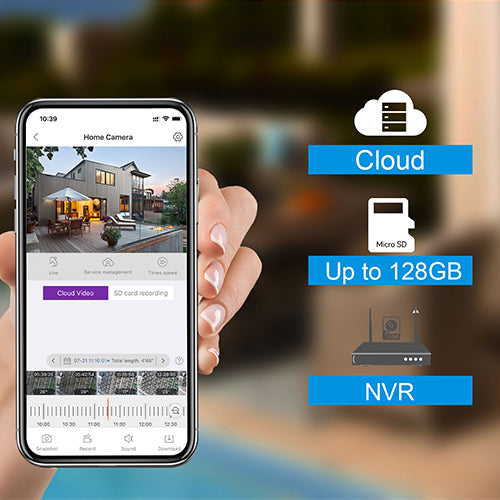 Saves to SD card, Cloud or NVR
The camera saves to an SD card.
The camera saves to an NVR when it's paired.
The camera saves to Cloud if you subscribed.
You can save your video to any, or all 3 storages.
Tips: due to Apple's in-App purchase policy, we are integrating Apple Pay for Cloud subscription. For iPhone users, please log your App account on any Android phone if you want to subscribe. Then you can use the Cloud storage on any phone including your iPhone & iPad.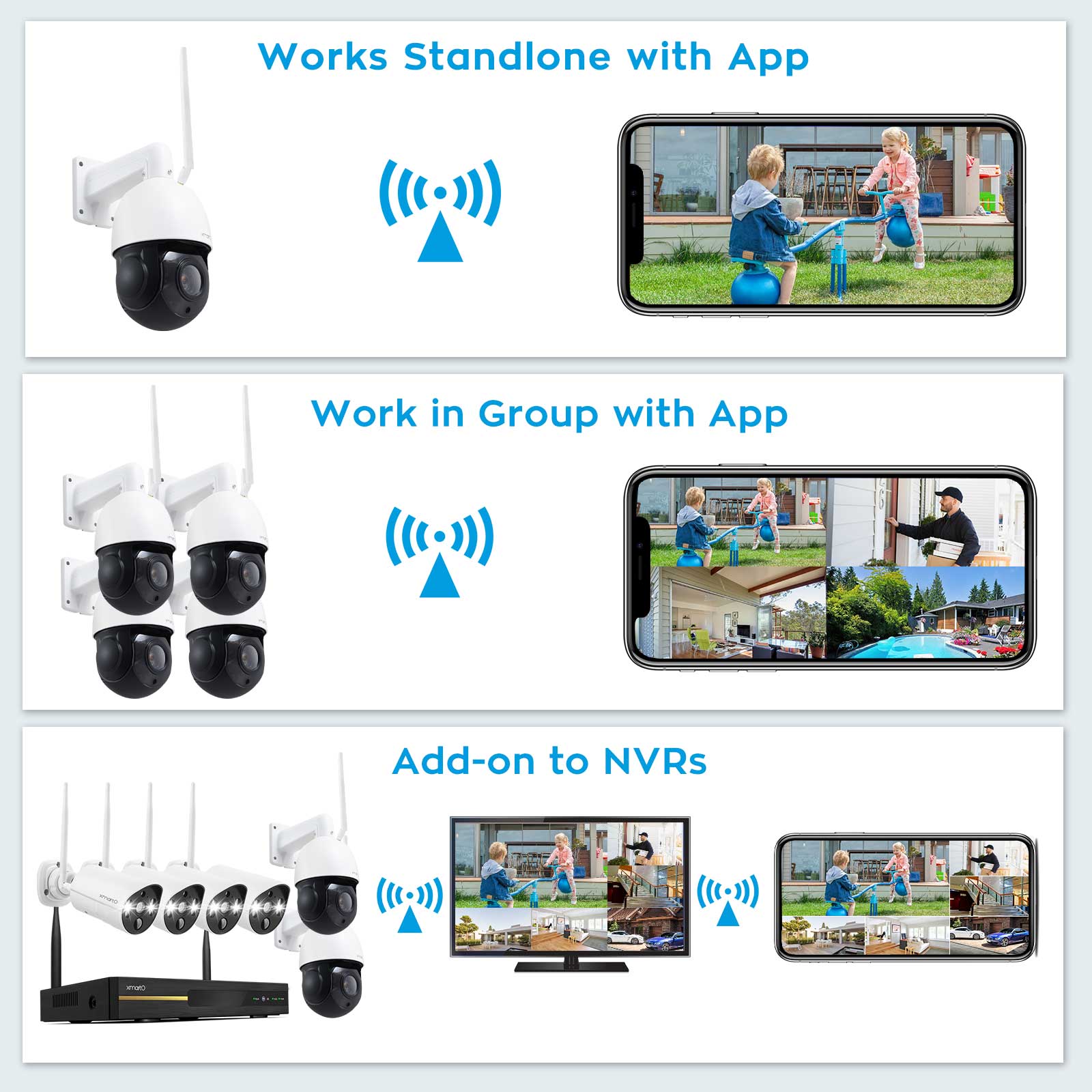 Good Compatibility
You can use this camera alone with iOS and Android phones
YIn the App you can group multiple cameras to a split-view.
You can pair this camera to an existed xmartO NVR or xmartO systems.
NOTE: if you use this camera with your NVR, make sure to upgrade NVR to 3.1.6 or later for better performance.
Product Specifications
Minimum Working Illumination
Color: 0.1 Lux, B/W: 0.01 Lux
Video Compression
H.264/ H.265, dual stream
Video Output
Main: 2304*1296, Sub: 640*360
Day/ Night Switch
IR-CUT auto switch, IR/ Night Color/ Smart 3 modes
Image Flip
Horizontal/ vertical flip
Audio in/ out
Microphone
High-gain microphone inside
Speaker
Enhanced speaker inside
Light
Infra Red Night Vision (B/W)
up to 100ft (30m)
Color Night Vision
up to 60ft (18m)
Light Mode
IR/ Night Color/ Auto selectable
Storage
Micro SD Card
Maximum 128GB ExFAT or FAT32
Cloud Storage
Optional with free trial
Notification
App
Instant App push notifications
Email
Email notifications
Reliability
Lightning protection
TVS 4000V thunder-proof, Anti-surge
Working Temperature
-4~149℉ (-20~65℃)
Protection Grade
IP66 Weatherproof
Power
Power in
Universal AC 100-240V to DC 12V 1A power adapter included
Communication Protocol
Communication Protocol
N1